Lasta Vs. EatThisMuch Review: help yourself to simplify the choice
Upd: 13.03.2023
Lasta and EatThisMuch are personalized health and wellness apps created to give you the power to live a healthy life. The apps focus on assisting you in planning your meals, achieving your nutritional needs, and reaching your target weight loss goals while simultaneously maintaining your usual lifestyle.
If this is the first time you hear of the apps or need clarification about which one to go for, then worry no more; this article has done a thorough review and brings out the best of each app and why you should try it. Continue reading to get a head start.
What about Eat This Much app?
Eating healthy is easy, but the time it takes to browse for healthy meals, make the menu, make the grocery list, and shop for the week is often tiring and energy-draining. As a result, some people prefer to return to their old habit of eating unhealthy food rather than endure this stress.
But do you know, Eat This Much App is the best app you will find for eating healthily and planning for your diet goals? It has taken all the stress of making a grocery list, thinking of what to eat, or searching for how to lose weight or maintain your body shape; it will make the menu based on your goals and grocery list.
Eat This Much meal planner like a smart helper
Eat This Much meal planner will save you the time and energy for planning meals and adjusting the macros to suit the day.
What you'll find at a glance:
Customized Eating Styles: With this meal planner, you can follow any eating style like vegan, Paleo, Atkins, etc. You can even create your style based on your needs and preference.
Food Waste Reduction: You can plan your food, reducing food wastage.
Saving You the Stress of Looking for What to Eat: This fantastic meal planning app will save the stress of always looking for what to eat, making your decisions, and planning your schedules.
Automatic Grocery List: You can review your meals for the week, and the grocery list will automatically update, saving you from skipping meals due to missing ingredients.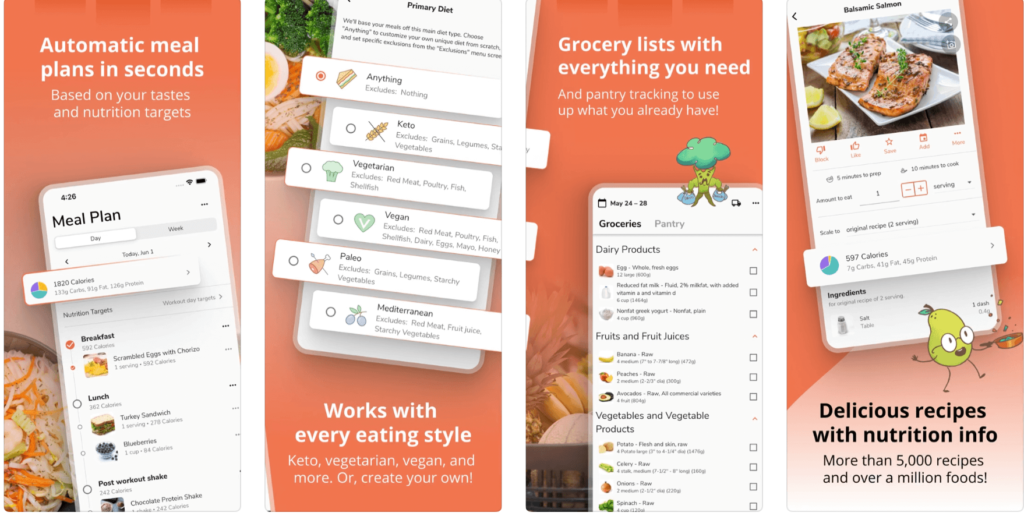 Eat This Much сost – a budget competitor for others
You can freely download this application from the Android or Apple play store. However, some of the features of this app are locked until you upgrade to a paid version which costs $5/month with an annual subscription.
Eat This Much macros is an effective option in the fight against calories
With Eat This Much macros, you can count the grams of the carbohydrates, proteins, and fats you are eating, which will help you make good healthy food choices. Win-win.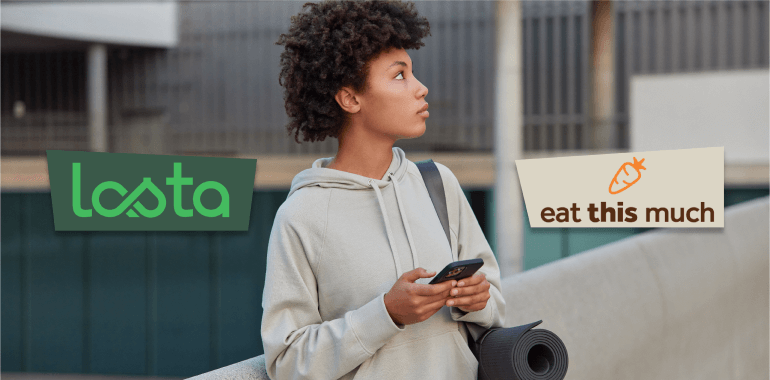 Is Lasta good for weight loss?
If you desire to lose weight but don't want to hit the gym frequently, then Lasta weight loss is here for you. With unique features and a fantastic setup, you will start your weight loss journey at ease and live the healthiest life; below are parts of the lasta app.
What are Lasta app benefits for users?
The Lasta is a weight loss application that focuses on bringing balance to your mind and body through a psychological, technological, and human learning approach. Whether you plan to work out, eat a healthy meal, or track nutritional information, Lasta features all. If you want to download the app, visit the AppStore with your iPhone or iPad. Glance at the features of the app.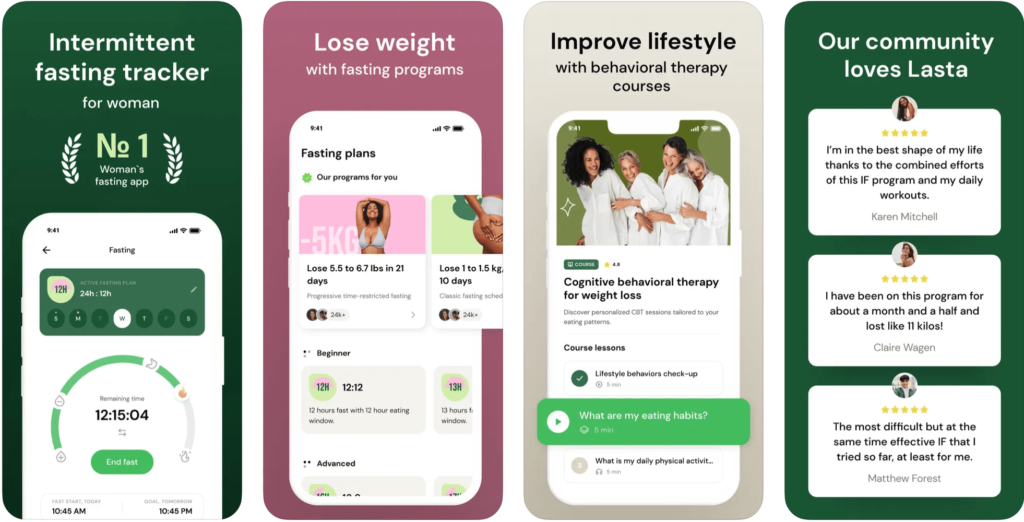 At a glance make you nuts!
Intuitive and user-friendly interface
Customizable weight loss plan
Accountability reminders
Round-the-clock support
1-month Premium, 7-Day last free trial $39.99
Lasta fasting – ​​Take control of your health and wellness
If you are looking to fast and would like a little assistance in staying organized, then a Lasta fasting app is exactly what you need! Allowing you to customize and personalize your fasting plans makes tracking your daily routine easy and convenient.
With the right measures put in place, having an effective fasting plan will no longer be a daunting task.
Lasta is revolutionizing the way we fast with its clever fasting mechanism. By incorporating machine learning, it offers users personalized plans based on intermittent fasting hours that are tailored to their individual lifestyles and schedules.
It's great for anyone looking to benefit from fasting without the hassle of planning out each meal, as the platform takes into account all the popular methods of intermittent fasting and offsets them with your commitments like work or school.
A fasting app can provide the guidance and dedication that many need to realize success when it comes to health goals. So, why not give yourself a boost by utilizing such an innovative tool?
Furthermore, Lasta has introduced additional functionalities to its platform to enhance collaboration efficiency. These include regular updates on the Lasta blog, as well as the ability to browse for particular topics in the lessons and courses found in the Mind section.
Users are also provided with various fasting methods tailored to their preferred intermittent fasting duration, as well as timely motivational tips. Additionally, goal tracking is available to cater to individual requirements.
Personalized meal plans – everyone finds an option for themselves!
Planning meals that suit your lifestyle is sometimes challenging, but with Lasta meal plans, all will become easy thanks to registered dieticians. The Lasta app is customized with meal plans that help you explore the foods best for your body and fitness goals.
Lasta Quiz enables desired profile changes
Take the quiz here to enjoy the best benefits of the Lasta app.
Is the cbt psychology app effective in losing weight?
Weight loss and psychology are linked because if you want to lose weight successfully, you must balance your workout routines and eating patterns, and your brain is in charge of these two.

The app will bridge your awareness, emotional health, and skill set gap. This approach is scientifically proven to reduce negative thinking, increase healthy behaviors and acquire new skills to sustain lasting wellness.
Among the features of the CBT Psychology App include:
30- days guide course on CBT and healthy living
An audio format and content summaries for learning
A growing library of meditations
Motivating resources to learn, grow and succeed
24/7 customer support
Lasta reviews: Hear from real users
Real users of Lasta have given positive feedback about the program, noting its ability to provide an efficient and useful platform for assessing one's diet and pursuing their goals.
Lasta comes with convenient widgets such as calorie counters and shortcuts built in to make tracking progress easier than ever.
Moreover, Lasta creates a personalized plan specifically tailored to an individual's unique weight loss or muscle-building needs, allowing them to set a daily calorie limit and receive immediate notifications when they are within budget.
Thanks to these features, Lasta enables users to acquire better habits that support healthy success.
Lasta app cost: Discover the best value for you
The Lasta app offers a great range of features to help you manage your busy life, and the best part is that it's now available on both the Android and Apple app stores.
The standard app version is free to download, but if you want full access to all these amazing capabilities, upgrading to the paid version is worth $35 per month with an annual subscription.
To make it even more appealing, though, there's a limited opportunity to get a great discount on the premium package and pay only $11.99 monthly! Don't miss out – hurry up and grab your copy of Lasta today!
Is Lasta a free app? – Know before you start
Lasta strives to offer the best service possible and keep its customers happy. That's why they constantly update and improve the app to give users the most up-to-date experience possible. Then, the full version of our app isn't free. However, the cost is well worth it for the benefits it provides.
All that you need is available from the app store – after downloading their application and ensuring you meet the system requirements of iOS version 14.5, you can start trying it out with a free trial to explore all its features.
By signing up now, you can find the perfect plan tailored to your individual needs and discover an easier way to reach your goals and create sustainable healthy lifestyle habits.
How do I cancel my Lasta app?
Canceling your Lasta subscription is a breeze. With just a few simple steps, you'll soon be out of the subscription loop and rated Lasta's cancellation policy all in the same motion.
To cancel your Lasta subscription easily, all you need to do is:
Open your settings
Click on 'Subscriptions'
Select the Lasta you want to unsubscribe from
Click 'Cancel'
That's it! Doing so gives you peace of mind in knowing that your account will no longer accrue charges due to an active Lasta subscription.
Final verdict on which app to choose
Achieve your desired weight with these two amazing apps; both apps focus on convenience and motivation. While the Eat Much App plans your meal and saves you the stress of grocery lists or looking for what to eat, the Lasta app helps you maintain a healthy weight and lifestyle.