Lasta Vs. Simple Life Review
What is Simple Life App?
Simple is a revolutionary AI-powered health and wellness platform that aims to provide intermittent fasting trackers with a solution that helps them achieve tangible fitness results. Its mission is to give people a daily personal insight into nutrition by leading them to healthier lives through behavior change.
Simple App Features
Intermittent fasting is the key to better health. Intermittent fasting gives your body time to recover after digestion. That's when all the fantastic benefits come into play.
Weight control. Regulate your calorie intake and boost your fat-burning engine.
Mental clarity. Improve the functioning of your brain for maximum energy and joy in life.
Improved metabolic health. From cholesterol and blood sugar to the benefits of cellular aging and longevity
Learn to fast healthy. It's easier than it looks and a lot of fun with Simple.
Custom guide. It will tailor your intermittent fasting plan based on your details while recording your progress and eating patterns.
Tracking fasts and meals. It has an intrusive fast tracker that guides you daily and tells you when to eat. Adapts it to your lifestyle and even get nutritional information for your meals.
Lifestyle tips and tricks. Get expert-led, evidence-backed advice that educates and motivates you, all based on your eating habits and progress.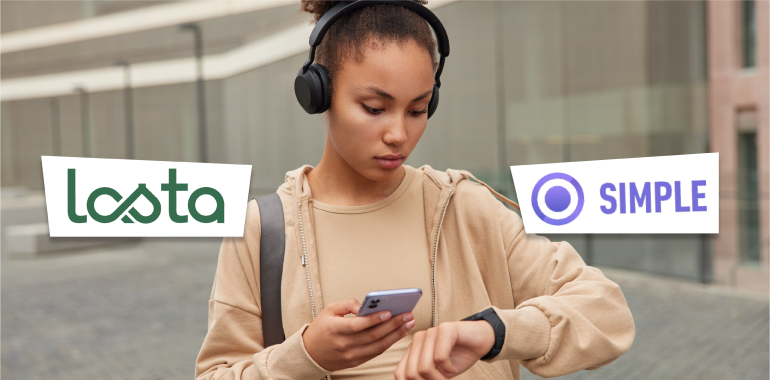 Simple Life Reviews
Katie: After doing intermittent fasting without the app, I'm glad I found it. The interface is excellent, the facts are helpful, and I've been motivated and loved its gentle nudge so far.
SWIM bio – very easy to start fasting or adjust if you forgot to start immediately. Plus, the alerts and reminders make it super easy, and it's great to be able to see a graph comparing it to your body weight. It does exactly what it's supposed to, without being too complicated.
Erato0: This application shines for its simplicity and also for its versatility! I'm new to fasting (for a few weeks), so I can't always make it to a "set time," but that's ok! You can set a goal (16 hours for me) and then click Start when you're done eating.
MannyBorgeous: I had never been on a fast intermediate until I tried the free week on this app. It gives you motivation and generally explains what your body is going through, how to burn fat instead of carbohydrates, the blood sugar level going up or down, and how this affects you. It's a great app, and they keep updating it regularly! You have lost 20 pounds on an empty stomach so far.

Also, read – Lasta Vs. Lose It Review
Simple Life App Promo Code
How to apply SIMPLE LIFE coupon codes and promotional codes? To use a SIMPLE LIFE coupon code, please read and follow the steps below:
Step 1: Find the SIMPLE LIFE coupon code on this page. Click "Show Code" to view the code, then click "Tap to Copy."
Step 2: On the SIMPLE LIFE website, choose the product you want to buy and add it to the cart. Once your purchases are complete, go to the payment page.
Step 3: On the SIMPLE LIFE payment page, paste the discount code from step 1 into the "gift card or discount code/coupon code / promotional code" box. Then click "apply."
Step 4: Complete your order to save money.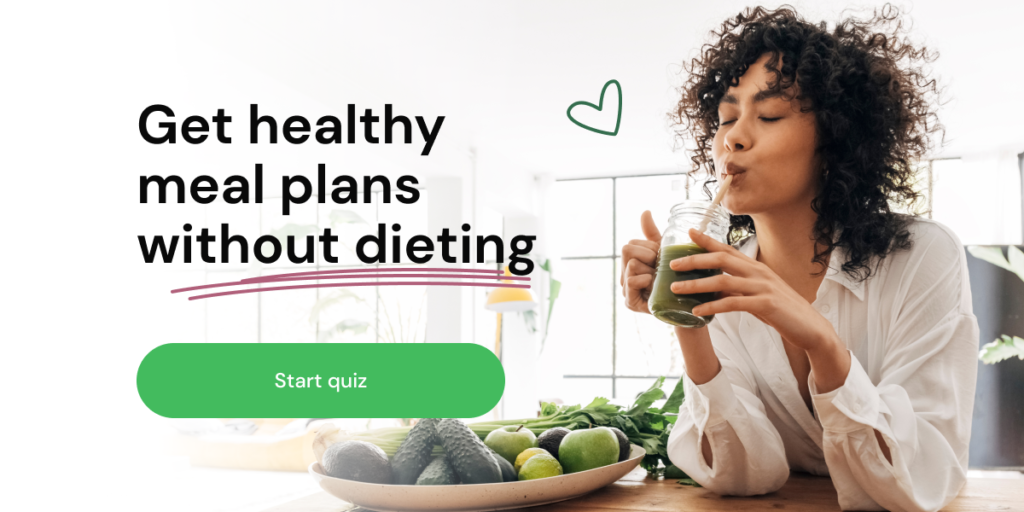 How To Cancel Simple Life App
You can cancel your Simple or Trial subscription in the app and on our web panel, as well as via the Apple App Store or Google Play, depending on where you purchased the subscription.
If you purchased the subscription on their website:
1. First, go to the "Me" tab in the app:
2. Scroll down and click "Manage Subscriptions":
3. On the next screen, tap the "Manage Subscriptions" button again.
4. You will be redirected to your profile page. Tap the "Cancel subscription" button.
5. You will receive a confirmation message.
Note: uninstalling the app does not automatically cancel your subscription; you will still be charged. Check your subscription status and cancel it in the app or via the subscription portal if you do not wish to be charged again.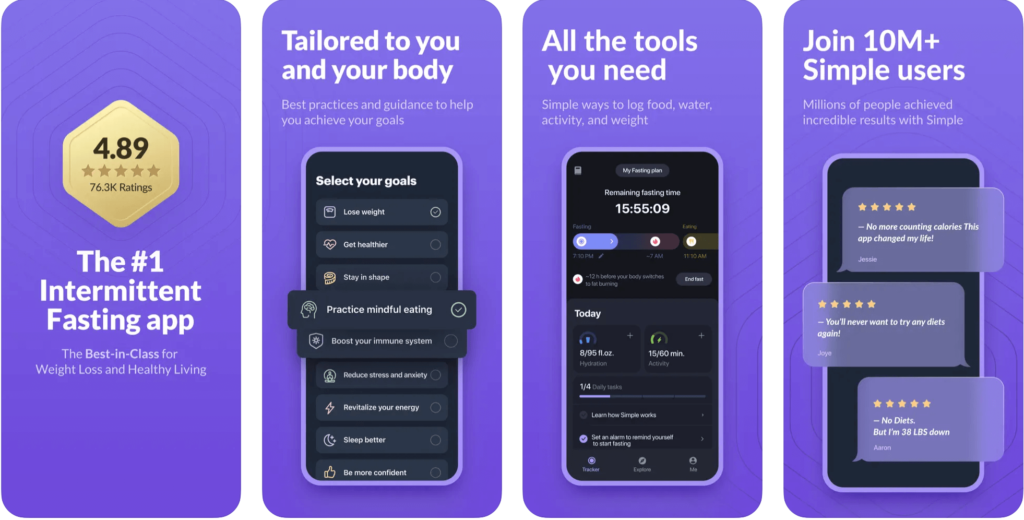 Is Simple Life app free?
It starts with a free Simple account then you upgrade to a premium account for $15 per month. The app is available on both iOS and Android devices.
Simple life app cost is:
| | |
| --- | --- |
| Title | Price |
| Simple App for Intermittent Fasting (Annual) | $39.99 |
| 12 Months Access | $49.99 |
| Simple Fasting Premium Yearly | $29.99 |
Lasta Wellness App for Healthy Habits
The Lasta App is a wholesome assistant in your wellness journey. The easy-to-use app guides your weight loss journey, focusing on intermittent fasting, meal planning, and weight loss psychology to change your eating habits through in-app therapy.
Lasta is a must-have for anyone who wants to lead a healthy lifestyle. The app goes beyond traditional weight loss apps, including weight tracking, blood pressure and cholesterol management, and fitness tracking. Lasta is the all-in-one health app we've been searching for!
Lasta simplifies your weight loss journey. In addition to tracking your progress, Lasta asks you questions about your overall health and uses these metrics to help you monitor it by providing personalized recommendations.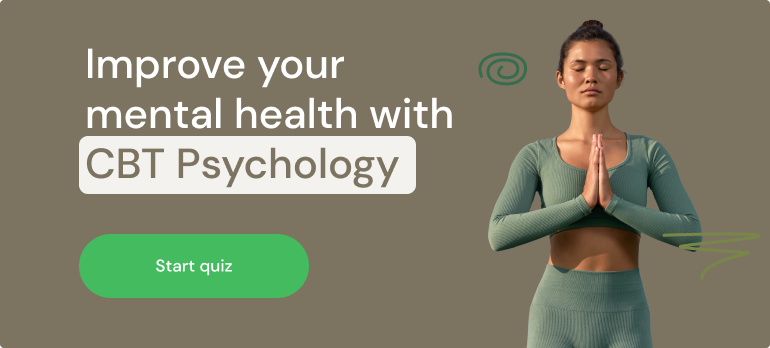 In-app CBT Therapy
Weight loss is way more than just a diet. To change the body, you often need to change your eating habits and your attitude to food. CBT therapy helps to detect and replace harmful behavioral patterns with healthy habits to make the weight loss effect long-lasting.
Lasta's CBT Psychology app includes:
30-day guided course on CBT and healthy living
Various audio formats with content summaries for the best learning experience
A library with meditation tracks
Resources that encourage people to learn, grow, and succeed
24/7 customer service reachable by email
Also, read – Science Behind Paleo Diet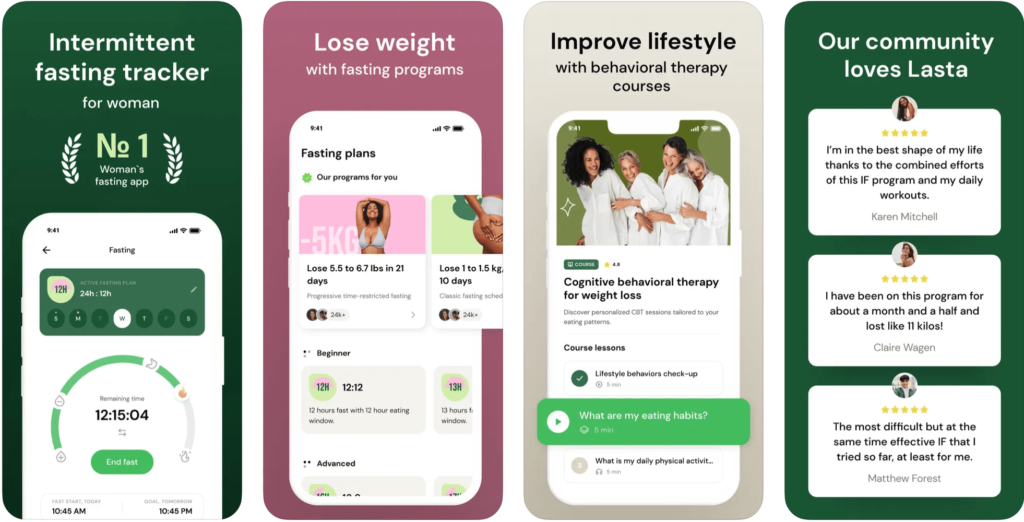 Lasta Healthy Meal Plans without Dieting
Lasta's on-the-go meal planner makes meal tracking accessible and easy, perfect for those who lead a busy lifestyle! The app includes meal plans created by registered dietitians that are seamlessly integrated into the app. With the Lasta app at your fingertips, you can easily track your meals and make changes to your goal while out and about.
Lasta's weight loss program is inclusive, catering to anyone, and is the best weight loss app for women. Lasta's healthy meal planning app offers customizable meal plans that allow you to discover which foods are ideal for you and your wellness goals, taking the guesswork out of popular diets like Keto, Paleo, Vegan, etc. Choose from a wide selection of meal plans and customize them to meet your needs.
Define Your Mood-Food Relation with Healthy Trackers
Have you ever wondered if you have a food addiction? Food addiction is a behavioral disorder that promotes excessive consumption of foods high in fat or sugar. Scientific research and brain imaging have established that the brain processes of those with food addiction are comparable to those who are addicted to other substances, such as drugs or alcohol.
Instructions: Take the Lasta food addiction quiz to find out more. Answer the questions about how you have behaved and felt over the past six months. Please take your time and answer honestly to get the most accurate results.
This online assessment is not a diagnostic tool. Only a qualified medical professional, such as a doctor or mental health professional, can help you determine the best treatment.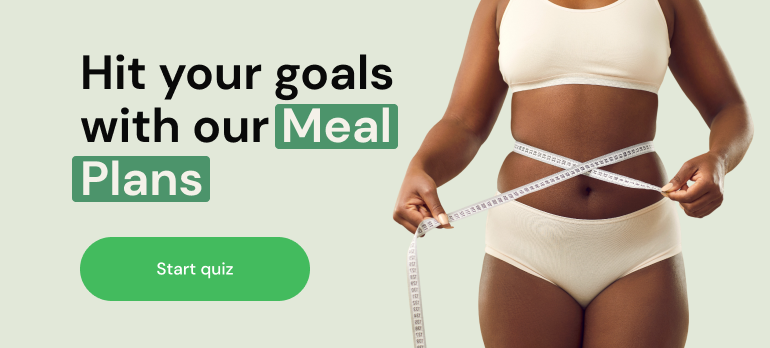 Eat Mindfully with Lasta
Lasta is not just a weight loss app; it is a mindful eating app. It helps you draw more attention to mindful eating strategies, such as eating slowly, focusing on the eating experience, and being more in tune with your cues of hunger, fullness, and satisfaction. 
Use the app to observe the speed you eat and document your emotions and the decision-making process surrounding food.
When considering a weight loss app, pay attention to:
Food tracking: Some apps involve documenting or tracking what you eat, which can be problematic to some, as it can start to feel like a food diary for counting calories and dieting.
Weight loss claims: Some apps claim that they will help you lose weight. If the app mentions it will make you lose weight, then it's not mindfulness-based. Mindfulness and mindful eating focus on bringing awareness to the moment and not the future. Since weight loss goals are something for the future (and for many people, not helpful or achievable anyway), they don't quite fit the concept of awareness. The same goes for calorie counting.
Additional support: Some apps, like Lasta, include developer information and "additional support." Access to more professional help is a good sign that the app is credible and very important for maintaining healthy along the journey with proper resources.