Lasta vs. Yazio Review: What to Choose for Long-term Weight Loss
Updated: 13.04.2023
What is The Yazio App?
Yazio App is a calorie and exercise tracking app for weight loss. Over the years, weight loss apps have developed from the basic styles of calorie in and out patterns to the in-depth and informative wellness apps we see today. Yazio is one of the oldest calorie-counting apps on the market. First created by fellow German university students Florian Weissenstein and Sebastian Weber in 2013, Yazio has become one of the best diet and nutrition trackers on the market, with millions of users in over 150 countries.
By creating an in-depth nutritional tool, Yazio aims to help people of all levels of health and well-being achieve their goals. You can also use the free tracker to lose weight with intermittent fasting. It can help you burn fat and build muscle. You're guaranteed to reach your goal in weeks with the free Yazio app for calorie counting, meal planning, intermittent fasting, and weight loss. Say goodbye to diet or hunger pangs with Yazio's calorie counter and periodic fasting app.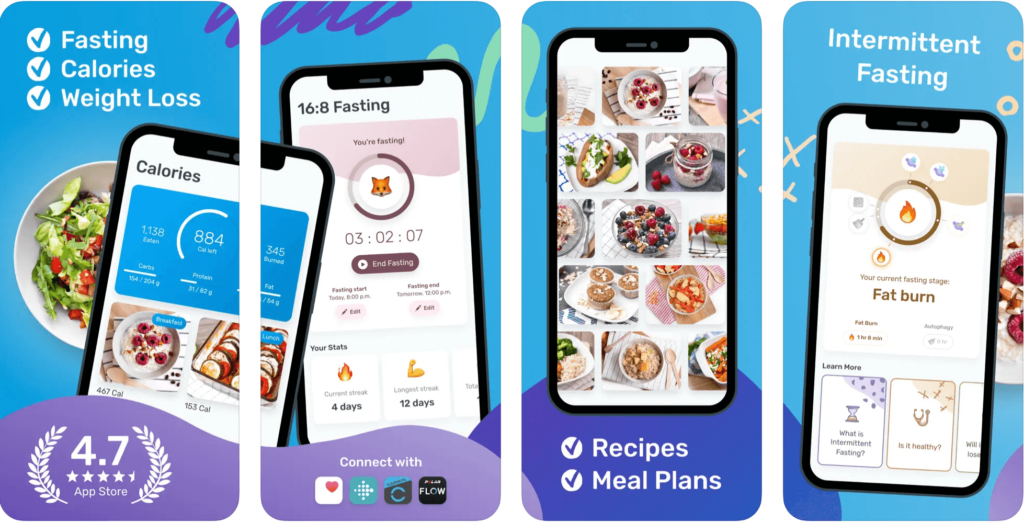 The Yazio app and Intermittent Fasting app consist of 3 sections:
1. Calorie counter
Free and easy-to-use calorie calculator
Food diary with calorie goals
Keep track of nutritional values ​​and macronutrients
More than 4 million foods
Integrated barcode scanner
Food classifications for each product
Simple and intelligent calorie counting
Create meals, meal plans, and recipes
Track your steps, activities, and symptoms.
Water tracker with a reminder
Complete caloric analysis
Yazio BMI Calculator
Tips and tricks for counting calories
2. App for Intermittent fasting
Free intermittent fasting tracker
Fasting and eating reminders
Start with a fasting test
Intermittent fasting personal plans
Precise information about the state of the body during fasting
Initiate autophagy and ketosis
Time-based fasting methods: 16:8, 14:10, 12:12
Daily fasting methods
3. Recipes
More than 1500 delicious recipes
New recipes to lose weight every week
Low-carb, vegetarian and vegan recipes
Pizzas, flans, salads, soups, and much more.
Shopping list function
Cooking mode to easily follow recipe instructions.
Join the Yazio PRO iOS community and reach your goal even faster.
Tons of extended features
Reach your target fast
Analysis of vitamins and minerals
Simple food classifications
Evaluate your progress over several years
Document and control body measurements
No more advertising
A few words about Yazio website
You can purchase PRO in-app purchases in the Yazio Calorie Counter & Intermittent Fasting app. Yazio PRO is much cheaper than premium versions of comparable calorie counting, intermittent fasting, and food diary apps for weight loss without dieting.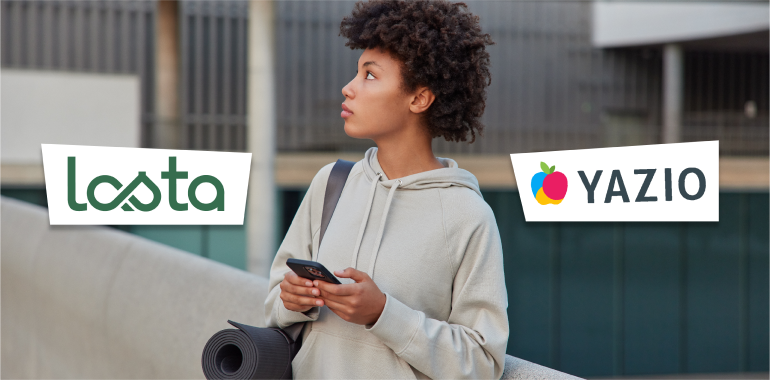 Yazio reviews – key points
Evaluate your diet and results so that you feel good and happy with the progress you are making
Tracking your progress is a breeze with built-in widgets and shortcuts. Maintain your health with a simple touch
Get a personalized plan to lose weight and even build muscle! Set your maximum daily calories and get instant feedback.
Also, read – Psychology of Eating: How Food Affects Mood
We found a lot of positive reviews
1. From a Google user:
It works if you use it correctly. They aren't five stars because if you don't log in for a day, the notifications get pretty passive and aggressive, so you can turn them off. This is a big turn-on for me. If I want to disable notifications, I will. Tweak: The developer's response to my review informed me that I could disable notifications. I already knew; That's why I mentioned it in the last line of my original thought. There was no need to know * how * to disable notifications. I'm a 30-something. I grew up with computers etc.
2. From a Google user:
This is one of the most excellent nutritional tracking apps. I love the fasting countdown. The only thing stopping me from using it more often is that about 50% of all the foods I can don't have the correct nutritional information. I have to enter everything myself or change the serving size to get the calories closer to the right amount.
3. From CE:
This is my favorite of all the similar apps. I always have trouble with other apps, scanning barcodes, and adding meals. This is the only app where I can add foods to a meal instead of registering each food separately. It also gives me suggestions quickly and allows me to search for food. I also like the mini-challenges, like going 21 days without chocolate. It keeps me motivated. It has several features that other apps don't have.
Yazio price: choose a program that suits you and save money
| | |
| --- | --- |
| Title | Price |
| Yazio PRO (Annual) | $22.49 |
| Yazio PRO (Semi-annual) | $34.99 |
| Yazio PRO (Quarterly) | $39.99 |
| Semi-Annual | $19.99 |
| Annual Plan | $34.99 |
| 1 Month | $19.99 |
What Is The Lasta App?
Try another popular weight loss app, the Lasta app. Lasta is loved for the countless valuable offscreen tips on weight loss and leading a healthy lifestyle. Lasta's mission is to support and educate users on intermittent fasting, meal planning, and behavioral psychology for long-lasting weight loss.
Download Lasta today as a must-have app for anyone who wants to lead a healthy lifestyle. Features include weight tracking, blood pressure and cholesterol management, and fitness tracking.
Lasta is the long-awaited all-in-one health app that does it all.
In addition to tracking your weight loss and wellness, Lasta asks questions about your overall health and helps you monitor it by providing personalized recommendations.
Also, read – Lasta Vs. Lose It Review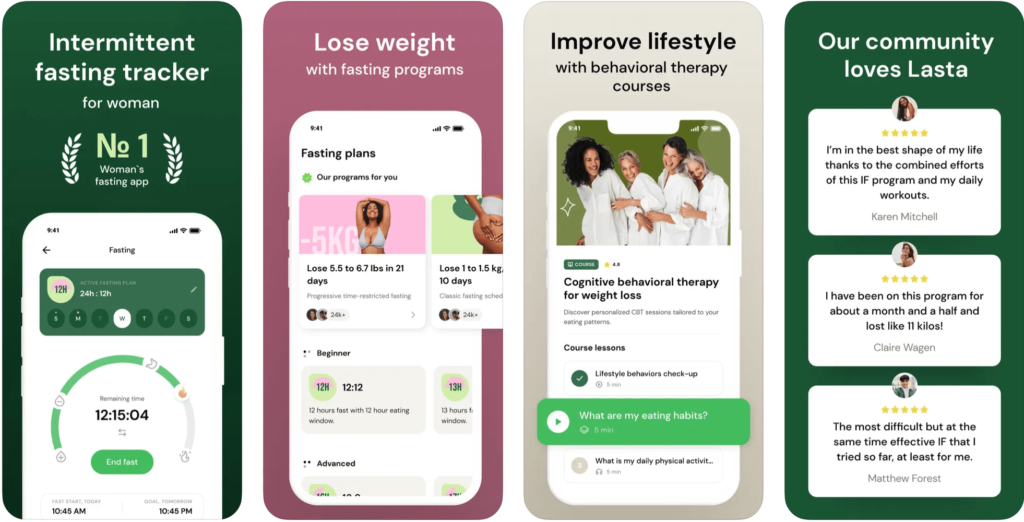 Healthy weight loss app for wholesome wellness
Lasta app has 3 assets to assist users in their weight loss journey: meal planning, time-restricted feeding, and weight loss psychology.
Meal planning helps you to cover your nutritional needs daily, staying under your calorie limit. Lasta meal plan allows you to adjust the menu to your goals, eating style, allergies, and preferences.
To enhance the weight loss effect and make it more sustainable, Lasta incorporates intermittent fasting practices. Once you teach your body to consume food only during the eating window, you start eating less naturally.
Moreover, this approach makes your food choices more mindful, as you can still have your favorite foods in moderation.
And last but not least: CBT therapy to improve your eating habits, body image, and attitude towards food. The absence of focus on building a healthy mood-food relationship makes most diets' effects disappear shortly after ending the diet. Lasta emphasizes building healthy eating habits to last with you forever and secure your weight loss results.
To help you to create new patterns, Lasta has habits tracking features (water, physical activity, fasting, and mood journaling) and educational content to guide you through.
Unlock the benefits of Lasta intermittent fasting
The Lasta application acknowledges women's difficulty when adopting a regular intermittent fasting routine. To assist with this, the app offers excellent educational materials, expert guidance for preparing for and ending fasts effectively, and a user-friendly interface that simplifies the process of getting started.
The Lasta program offers a variety of fasting methods to users, which are tailored to their desired intermittent fasting hours. By taking the initial test, users can discover the most effective way to lose weight with Lasta.
Regardless of where you are in your journey, the available resources will help you achieve success!
Lasta wellness education – an excellent opportunity to get to know your body
Lasta Mind tab has loads of educational content to lead you through the most effective wellness and weight loss practices, explain how your body works, and present scientific facts about the weight loss process. This knowledge helps you better understand your body and make more mindful lifestyle choices.

You can learn more about wellness with daily stories in your lasta app blog or search for a specific topic in lessons and courses in the Mind tab.
Take Lasta Quiz for optimal personalization
Lasta offers a lifestyle quiz that helps you determine your goals, needs, and interests and detect behavioral disorders that stop you from losing weight consistently.
Instructions: Answer the questions about how you have behaved and felt over the past six months. Please take your time and answer honestly to get the most accurate results.
This online assessment is not a diagnostic tool. Only a qualified medical professional, such as a doctor or mental health professional, can help you determine the best treatment.
Lasta meal plans for healthy eating surprise you with various choices
One of the most popular features of the Lasta app is the meal planner, which includes meal plans created by registered dietitians. The meal plans are seamlessly integrated into the app, allowing you to track your meals and change your goal easily.
Lasta is women's best weight loss app, valuing nutrition as individualized, nourishing your body, mind, and spirit. Its customizable meal plans let you discover which foods are ideal for you and your wellness goals by taking the guesswork out of popular diets like Keto, Paleo, Vegan, etc. Lasta offers countless meal plans for you to customize to fit your schedule.
Lasta mindful eating feature – love food and lose weight!
When you eat slowly, focus on the eating experience, and are more in tune with your hunger, fullness, and satisfaction cues, you practice mindful eating strategies. Using an app such as Lasta is a helpful way to draw more attention to these aspects of mindful eating.
Many apps exist, but the best ones are aimed at making the food experience known by observing the speed you eat, your emotions, and your decision-making process on food.
Lasta CBT psychology course for weight loss can surprise you!
Lasta's CBT Psychology app includes:
30-day guided course on CBT and healthy living
Various audio formats with content summaries for the best learning experience
A library with meditation tracks
Resources that encourage people to learn, grow, and succeed
24/7 customer service reachable by email
Lasta Reviews – discover what others say
The general thoughts about Lasta by real users allow ensuring that:
You can easily assess your diet and track your progress to feel content and satisfied with your results.
The program provides convenient built-in widgets and shortcuts to facilitate progress tracking, making it effortless to maintain your health.
You can receive a customized plan that caters to your weight loss or muscle-building goals.
Simply set your daily calorie limit and receive immediate feedback to stay on track.
"Starting with Lasta is a breeze, and the program makes tracking your weight and water intake easy. The app provides a clear and attractive graph of your weight entry progress. Lasta is flexible with fasting times, accommodating individual preferences and schedules. It offers a collection of fantastic recipes you can explore and discover."
User Mike
"During a particularly challenging time, I discovered the Lasta app, which helped me better understand my emotions. The fantastic app offers meditations, affirmations, and reminders with encouragement and motivation. I truly love Lasta and all it has to offer."
User Lisa
"What I appreciate about the Lasta app is that I lost weight without dedicating much time to cooking. I've lost three stones through fasting and didn't need much time preparing or cooking food."
User Kira
Find the perfect plan for you with Lasta app prices
The Lasta application is available for free download on both the Android and Apple app stores. However, all app features are locked and require an upgrade to the paid version, which costs $35 per month with an annual subscription.
But now you can hack a discount and pay only $11.99 monthly!
How to cancel Lasta app subscription?
According to users' feedback, canceling a Lasta subscription is an effortless process. You can do so very easily if you haven't rated Lasta's cancellation policy yet.
Open Settings and click "Subscriptions."
Click the Lasta you want to review.
Click Cancel.
Here are tips to help you choose the best app
Be aware of apps that document or track what you eat.
This can be problematic and even triggering for some people, as doing so can start to feel like keeping a food diary and counting calories.
Do not fall for apps advertising that they will help you lose weight.
If the app mentions weight loss due to using the app, it's not mindfulness-based. Mindfulness and mindful eating focus on bringing awareness to the moment and not the future, which is what Lasta's mission is. Since weight loss goals are something for the future (and for many people, not helpful or achievable anyway), they don't quite fit the concept of awareness. The same goes for calorie counting.
Look for apps that offer developer information and additional support.
These features are a good sign that the app is credible. Access to more professional help and resources for your weight loss situation is critical and helpful.
Final Thoughts: Trust your gut and try it now!
As with any other weight-loss journey, it is essential to consider all the factors critically before committing to any particular program.
Similarly, you should also consider your individual needs and preferences before deciding on a particular course of action. Always remember that persistence is key, and commitment is the most important element of successful weight loss.
So, keep track of your workouts, eating plan, and progress to reach your goal, and make sure it lasts!