Does Intermittent Fasting Slow Metabolism?
Exploring Does Intermittent Fasting Slow Metabolism
Have you contemplated intermittent fasting (IF) for weight loss but thought about "intermittent fasting ruined my metabolism"? The opposite is the case. If you want to lose some kg of weight, then IF is for you. Don't give in to those negative thoughts.
Intermittent fasting does not appear to slow down your metabolism when you adhere to the proper practices regarding IF. Periods of restriction from eating windows, on the other hand, can enhance your metabolic process and provide other health benefits, such as improving your sleeping habit and lowering your blood pressure, which gives you good health.
What Does Fasting Do to Your Metabolism?
Many people believe that when you restrict your meal intake, your body gets used to it by reducing its metabolic rate to conserve energy.
However, research has proven that proper meal restrictions can boost your metabolism. In addition, IF tends to enhance the metabolism due to a rise in the body's hormones resulting in weight loss.
So, a shorter duration of Fasting improves your metabolism, whereas excessive IF slows down your metabolic process.
When you engage in fasting, various cellular and molecular changes occur in your body. Here's a summary before we delve into the nitty-gritty:
Fat burning is made easier when insulin levels decrease, as shown by a significant drop in insulin levels.
The growth hormone levels in the blood may increase up to five times. Higher levels of this hormone facilitate fat-burning and muscle gain, among other benefits (2).
The body induces critical cellular repair processes, such as removing cell waste.
The alteration of genes associated with longevity and disease prevention is called gene expression.
Now, let's get more detailed about the metabolic changes that occur during fasting.
Glycogen Depletion and Fat Burning
When you fast, your body first depletes glycogen, a form of short-term energy storage in the liver and muscle tissues, before it burns fat for energy. This usually happens around 12-16 hours into a fast.
The process of burning fat is known as lipolysis. During lipolysis, triglycerides (the main constituents of body fat) are broken down into glycerol and free fatty acids that can be used to generate energy. It's during this phase of fat burning that many people experience weight loss.
Increased Metabolic Rate
Interestingly, short-term fasting may increase your metabolic rate, not decrease it, as many fear. Studies have shown fasting for 48 hours can boost metabolism by 3.6-14%.
Improved Insulin Sensitivity
Fasting can improve insulin sensitivity, meaning your cells can better recognize insulin and take in glucose from your blood. This mainly benefits people with insulin resistance or type 2 diabetes.
Autophagy
Autophagy is a process where your cells recycle and repair themselves. Fasting can increase autophagy, which is beneficial for cellular health and longevity.
Impact on Hunger Hormones
Fasting may affect the levels of your hunger hormones like ghrelin (which signals hunger) and leptin (which signals fullness). Some research suggests fasting could help regulate these hormones, potentially reducing the need and helping you eat less.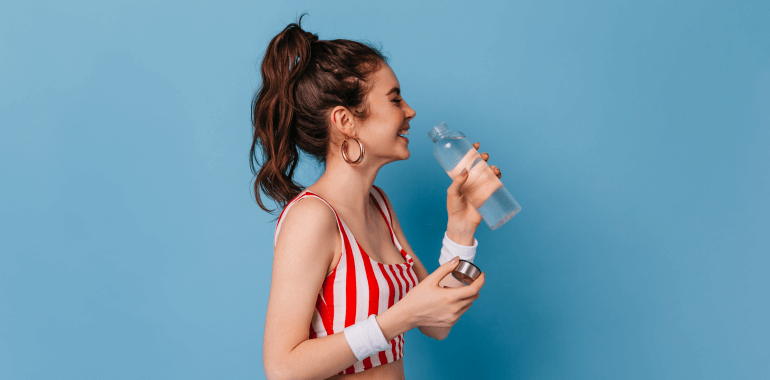 Does Fasting Slow Down Your Metabolism – Expert's Answer
It's a common misconception that fasting slows down metabolism.
It's understandable why people might think this way, given that the "starvation mode" theory suggests prolonged periods without food would lead the body to conserve energy, thereby slowing down metabolism. However, research over the years has revealed that fasting can have quite the opposite effect on your metabolism.
When you begin fasting, your body initially uses glycogen, a form of short-term energy storage found in your liver and muscle tissues, for energy.
This happens before it starts to burn fat, usually around 12-16 hours into a fast, according to a study by Acheson. Fat burning, a process known as lipolysis, is where the body breaks down triglycerides (main constituents of body fat) into glycerol and free fatty acids for energy. The result is often weight loss, but notably, this process doesn't slow down your metabolism.
Short-term fasting might increase your metabolic rate.
A study by the American Journal of clinical nutrition found that a 48-hour fast could raise metabolism by between 3.6% to 14%. Their research showed that resting energy expenditure (the quantity of calories the body needs when at rest.) was increased due to an elevation in serum norepinephrine. This hormone helps mobilize fat and glycogen for energy.
Beyond the increase in metabolism, fasting can positively impact your health. For example, fasting is associated with improved insulin sensitivity.
This means your cells can better recognize insulin and take in glucose from your blood. According to the Journal of applied physiology, this is especially helpful for individuals with insulin resistance or type 2 diabetes.
Moreover, fasting can stimulate a cellular waste removal process known as autophagy, which can benefit cellular health and longevity.
It's also thought that fasting may influence levels of hunger hormones like ghrelin (which signals hunger) and leptin (which signals fullness), helping regulate these hormones and potentially reducing hunger (Sumithran P. et al., 2011).
To wrap up, the body is incredibly adaptive and clever. It will undoubtedly take steps to preserve energy when it can, but these adaptations are far more complex than simply 'slowing metabolism.'
In the short term, fasting doesn't slow metabolism but could increase it, improve insulin sensitivity, stimulate cellular repair processes, and regulate hunger hormones. Remember, the research on fasting is still ongoing, and the effects can range extensively depending on the individual and the specific fasting regimen.
Does Fasting Speed Up Your Metabolism?
Yes, intermittent fasting metabolism speeds up when carried out well! When in excess, it affects the metabolic process by slowing its rate.
Fasting, by definition, involves abstaining from or reducing the intake of food, drink, or both for a specified time. When you start fasting, your body needs to find alternative fuel sources, as the regular energy intake (from food) is absent. This sets off a series of metabolic changes.
When you first begin a fast, your body utilizes glycogen stores, short-term energy storage found primarily in the liver and muscle tissue. This generally happens around 12-16 hours into the fast.
However, once the glycogen stores are depleted, the body begins to transition to a state known as lipolysis. This is where fats (or triglycerides, to be specific) are broken down into glycerol and free fatty acids used for energy. The fact that the body switches energy sources this way shows its remarkable metabolic flexibility.
Nevertheless, does fasting speed up metabolism? Interestingly, the answer is yes, at least in the short term. The research found that a 48-hour fast can increase metabolic rate by 3.6-14%.
In addition, let's explore the Pros and Cons of intermittent fasting.
Pros of Intermittent Fasting
IF helps improve and support the metabolic process. It enhances weight loss and aids the metabolism rate of the body. Furthermore, it helps control the body's blood pressure and sugar level. Intermittent fasting also helps your body feel fuller during fasting, resulting in reduced food intake. Naturally, it eliminates a lot of calories.
One of the most marked advantages of intermittent fasting is its potential for weight loss. During fasting periods, the body has to tap into its fat reserves for energy, promoting fat loss.
Another critical benefit of intermittent fasting is its impact on insulin resistance. Fasting can improve insulin sensitivity, which is beneficial for blood sugar control!
Intermittent fasting also benefits the brain. Studies on animals indicate that intermittent fasting can enhance cognitive abilities and boost the resilience of brain neurons against stress and disease.
Additionally, intermittent fasting may help fight inflammation, a key driver of many chronic diseases. Alternate-day fasting, for example, altered the production of specific inflammatory markers, which may be beneficial in managing chronic inflammatory conditions.
Intermittent fasting also lends itself to simplicity. Many people find intermittent fasting more manageable than traditional calorie-restriction diets, as it doesn't require complicated meal planning or counting calories for every meal.
Lastly, studies on animals suggest that intermittent fasting may extend lifespan and improve health markers related to aging, although more research is needed in humans to confirm these effects.
Cons of Intermittent Fasting
Observing intermittent fasting metabolism, regardless of the method, will likely leave the person involved feeling weak and unnecessarily tired. In addition, many people need to be more conversant with fasting and in, and the cause of this might result in losing incus anion concentration. As a cause of this, you are likely to go to bed feeling hungry most nights.
One of the most common challenges with intermittent fasting is hunger. During fasting periods, especially when starting, you might experience persistent desire or food preoccupation, making the diet hard to stick to.
Intermittent fasting can also lead to nutrient deficiencies.
In some cases, intermittent fasting can also contribute to unhealthy eating behaviors. For some individuals, fasting may trigger overeating during eating periods or encourage an unhealthy relationship with food, where it's viewed strictly as a means of control or punishment.
Moreover, intermittent fasting can be risky for individuals with certain health conditions. If you're diabetic and use insulin, fasting could lead to dangerously low blood sugar levels.
Fasting is generally not recommended for pregnant or breastfeeding women.
Intermittent fasting can also cause undesirable side effects, especially when starting the regimen. These can include headaches, dizziness, low energy levels, and disruptions to sleep and digestion.
Lastly, while some people find the simplicity of intermittent fasting appealing, others may find the eating restrictions challenging to fit into their social life.
Methods of Fasting
Fasting methods involve various ways of observing intermittent fasting to enhance weight loss.
It entails fasting for 12 hours or more daily and eating for the remaining hours. The 16:8 technique is an established instance. It includes a 16 hrs daily fast and an 8hrs eating window during which you can consume two, three, or more meals depending on the calories required.
20/4 Hour IF or Warrior Diet
20/4 hour IF or warrior diet is a way of eating that encourages you, warrior, when weight loss. It is one of the earliest popular fads when it comes to IF. It entails consuming tiny portions of raw fruits and veggies throughout the day and one square meal at night.
You can observe this type of IF, which entails eating fast again. It is a 24-hour fast. You can fast on different days. However, Fasting every other day is the goal with alternate fasting.

Eat 5 Days and Fast 2 Days (5:2 diet)
The 5:2 diet method is the type that allows you to eat as you usually do for five consecutive days, and for the remaining two days that follow, you restrict your calories to 500 to 600 calories per day. This method is easy to practice.
The Truth About Does Fasting Boost Metabolism – Revise Each Method
Read the potential effects of fasting on metabolism between different methods.
1. Intermittent Fasting
This one involves cycling between periods of eating and fasting. A popular variant is the 16:8 method: you fast for 16 hours daily and limit your eating to an 8-hour window. The idea here is that by extending the period of the natural fast we experience overnight, we allow our bodies more time in a state of lipolysis, where fat is used as the primary energy source.
In terms of metabolism, a study found that intermittent fasting could improve insulin sensitivity, which means your cells are better able to take in glucose from your blood, promoting a healthier metabolic function. This is particularly beneficial for people with insulin resistance or type 2 diabetes.
2. Alternate-Day Fasting
This involves fasting every other day. Some versions of this allow for about 500 calories on fasting days. While people did lose weight, there were signs of increased oxidative stress in the subjects.
3. The 5:2 Diet
This involves eating normally five days a week and restricting calories to 500-600 on two days. Like the previous ones, this method extends your body's time in a fasted state, thus theoretically leading to increased fat burning and possibly beneficial metabolic adaptations.
4. Periodic Fasting or Fast Mimicking Diet
Periodic fasting involves fasting for multiple consecutive days, such as a 5-day fast once a month. This method has been studied for its potential to stimulate autophagy, which helps the body clean up damaged cells, aiding cellular health and longevity.
A Fast Mimicking Diet, proposed by Dr. Valter Longo, involves consuming a restricted calorie diet (around 40-50% of regular caloric intake) for five days in a row, aiming to provide the benefits of fasting while allowing for some food intake.
5. Time-Restricted Eating
This fasting method involves eating only during a specific day (between 10 a.m. and 6 p.m.). It may help align your eating patterns with your circadian rhythms for improved health and metabolism.
The main metabolic benefits of all these fasting methods come from extending the body's natural fasting period, pushing it to switch from using glucose for energy to using fat. This metabolic flexibility, potential improvements in insulin sensitivity, and the stimulation of cellular repair processes could help boost metabolism.
Determinate: Individual responses to fasting can vary greatly, and what works well for one person might need to work better for another. Fasting is a tool, and it's most effective when paired with a balanced, nutrient-dense diet, regular exercise, and adequate sleep.
Does Fasting Increase Metabolism – Safely Incorporate Intermittent Fasting into Your Diet & Lifestyle
Fasting has an impact on metabolism. According to research, a short-term fast can increase your metabolic rate by 3.6-14%.
This is primarily due to the rise in norepinephrine, a hormone that helps to mobilize fat and glycogen for energy. Besides this, fasting also triggers a series of metabolic adaptations, such as improved insulin sensitivity and increased lipolysis (the breakdown of fat for energy).
However, to gain these benefits, it's crucial to approach fasting responsibly and consider it one piece of your overall health and wellness strategy.
Here are some steps to safely incorporate intermittent fasting into your diet and lifestyle:
1. Do Your Breakdown: Before beginning any new diet regimen, it's essential to understand what you're getting into. Read up on intermittent fasting and the different methods to determine which might work best for your lifestyle and health needs.
2. Choose the Right Fasting Method: Intermittent fasting isn't one-size-fits-all. Several methods include the 16/8 plan, 5:2 diet, or eat-stop-eat. Experiment and determine which approach fits best with your routine and health goals.
3. Start Slow: It's not a race. If you're new to fasting, begin with shorter fasting periods and gradually extend the duration over time. This allows your body to adjust.
4. Hydrate: During fasting periods, staying hydrated is crucial. Water, black coffee, and herbal tea are all great choices.
5. Prioritize Nutrient-Rich Foods: Ensure you get enough nutrients.
6. Monitor Your Energy Levels: Pay attention to how fasting affects your energy, particularly if you're physically active. You may need to adjust your fasting/eating windows to ensure you're adequately fueled for workouts.
7. Be Mindful of Your Body's Signals and Needs: If you're feeling unwell, excessively hungry, or exhausted, it might be alert that you ought to adjust your fasting approach.
8. Don't Overdo It: Just because you're fasting doesn't mean you should overeat during your eating periods. Try to maintain a balanced and moderate intake of food.
9. Try Pairing with Exercise: Regular exercise combined with intermittent fasting can amplify the health benefits. But remember, heavy workouts on an empty stomach might only suit some.
10. Don't Break Fast with a Feast: Break your fast with a small, balanced meal rather than a large feast. This can help prevent overeating and maintain better blood sugar control.
11. Consistency is Key: Try to be consistent with your fasting schedule. It helps your body adapt and know when to expect its next meal.
12. Keep Stress in Check: Fasting can be a stressor on the body, so it's crucial to manage other sources of stress in your life.
13. Avoid Junk Food: Fasting isn't an excuse to eat junk food during eating periods. You won't reap the health benefits of fasting if your diet isn't balanced and nutritious.
14. Consult a Healthcare Professional: If you have pre-existing health conditions, are pregnant, or are breastfeeding, it's crucial to discuss intermittent fasting with a healthcare provider before starting.
15. Remember Your 'Why': Remember your reasons for starting intermittent fasting, whether it's for weight loss, better health, or disease prevention. Staying focused on your goals can help keep you motivated.
Wrapping Up
Intermittent fasting is a good practice if you desire to lose weight, and reset metabolism fasting doesn't happen when practiced correctly. On the contrary, shorter periods of fasting help Improve your metabolism, and excessive fasting tends to slow metabolism.