Simple and Healthy Lunch Ideas for Busy Working Moms
Do you ever struggle with those midday cravings and find yourself reaching for snacks that aren't the healthiest? We've all been there. But did you know that what we eat for lunch can greatly impact our weight loss ambitions?
Eating a healthy, balanced lunch gives us sustained energy to power through the rest of our day, prevents unhealthy snacking habits from forming, and keeps us within our desired calorie range.
In this article, we will go into more detail about why eating a healthy lunch is essential for successful weight loss & propose perfect lunch ideas for weight loss. Let's dive in!
What Should You Eat for Lunch to Lose Weight, According to Dieticians?
When it comes to losing weight fast, focusing on making smart and healthy food choices for your lunch is essential.
Desire to fill at least half of your plate with various non-starchy vegetables like leafy greens, broccoli, cauliflower, bell peppers, carrots, and cucumbers.
Choose grilled chicken breast, turkey, fish, tofu, or legumes like lentils and beans.
Choose whole grains over refined grains to increase fiber intake and promote fullness. Whole grains like quinoa, brown rice, whole wheat bread, and whole grain pasta offer more nutrients and fiber, which can help control your appetite.
Choose avocados, nuts, seeds, and olive oil as your sources. These fats are heart-healthy and can be added to salads, cooked with, or eaten as a small side dish.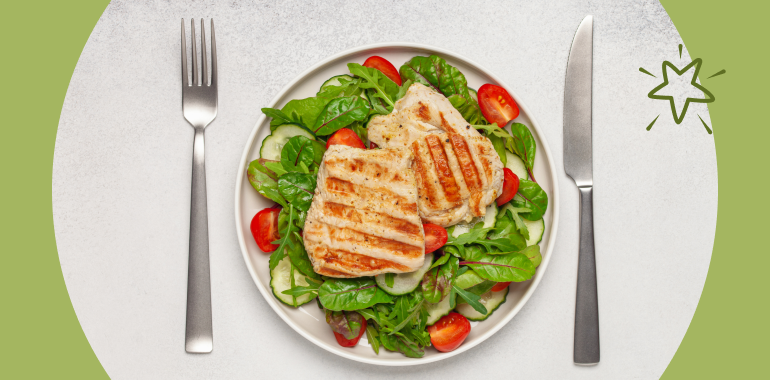 To Lose Weight, Include These 3 Best Lunch Foods
Leafy Greens: They're low in calories but high in fiber, which helps keep you full and satisfied. Add a generous portion of leafy greens to your salad, wrap, or bowl as a base for your meal.
Lean Protein Sources: Including lean protein in your lunch is essential for weight loss because it keeps you satiated and helps you retain lean muscle mass.
Whole Grains: They offer more fiber & nutrients than their refined counterparts. As a result, they provide sustained energy and can help control cravings throughout the day.
Colorful Vegetables: They add volume and crunch to your meals while being low in calories.
Healthy Fats: They provide basic fatty acids and help absorb fat-soluble vitamins from other foods. 
Also, read – Is Kombucha Good For Weight Loss
4 Easy Low-Calorie Lunch Recipes
Prepare a colorful and nutritious salad in a mason jar for a convenient and portable lunch option. When ready to eat, shake the jar to mix the ingredients and enjoy your fresh and flavorful salad.
Create a quick and satisfying low-calorie wrap using whole-grain tortillas or wraps. Roll it up tightly and pack it for a convenient and filling lunch option.
Veggie and Protein Packed Quinoa Bowl
This healthy and customizable lunch option will keep you fueled and satisfied throughout the day.
Pair a simple, homemade vegetable soup with a side salad for a nourishing, low-calorie lunch. Prepare a vegetable soup using a mix of your favorite vegetables, low-sodium broth, herbs, and spices.
3 Delicious & Nutritious Weight Loss Chicken Recipes
Lemon Herb Grilled Chicken. For a flavorful chicken dish, marinate chicken breasts in a blend of lemon juice, minced garlic, fresh herbs like rosemary and thyme, olive oil, salt, and pepper.
Baked Pesto Chicken. Pesto adds a burst of flavor without adding unnecessary calories. Instead, pair it with roasted vegetables or a fresh salad for a well-balanced meal.
Chicken Stir-Fry with Vegetables. This quick and easy recipe is filled with nutrients and low in calories, making it an excellent option for reducing belly fat.
3 No-Bread or Pasta Lunch Ideas
Quinoa and Vegetable Stir-Fry. This dish, rich in fiber, will provide sustained energy and satisfaction throughout the day.
Lettuce Wraps with Turkey or Tofu. Skip the sugar-laden sauces and wrap your favorite protein in crisp lettuce leaves.
Greek Salad with Grilled Chicken. This colorful and satisfying salad will nourish you without added sugars.
3 Sugar-Free Lunch Recipes with Nutritious Substitutions
Cauliflower Fried Rice. Transform cauliflower into a healthier alternative to traditional fried rice.
Lentil Soup. This hearty and flavorful soup is a healthy lunch option that won't spike your sugar levels.
Sushi Rolls with Brown Rice. Serve with low-sodium soy sauce and wasabi for a wholesome and no-sugar-added lunch.
Also, read – Oat Milk vs Almond Milk: Which is Better
Top 5 Low-Calorie Meals for Picky Eaters
Grilled Chicken with Roasted Vegetables
Grilled chicken is a versatile, lean protein option that pairs well with roasted vegetables. Marinate the chicken in your favorite herbs and spices, then examine it perfectly. For the vegetables, toss them with olive oil, salt, and peppers. Then roast them in the oven until they're tender & slightly caramelized.
Zucchini Noodles with Pesto
If you find a low-carb alternative to pasta, zucchini noodles, also known as "zoodles," are a great choice. Use a spiralizer to create thin strands of zucchini, then lightly sauté them in a pan. Top the zoodles with a homemade or store-bought pesto sauce. Add some cherry tomatoes and grated Parmesan cheese for extra taste.
Quinoa Salad with Fresh Vegetables
Cook the quinoa and let it cool. Then, mix in your favorite fresh vegetables like diced cucumbers, cherry tomatoes, bell peppers, and chopped herbs like parsley or basil. A simple combination of lemon juice, salt, oil, and pepper works wonders for dressing.
Turkey Lettuce Wraps
Try lettuce leaves instead of tortillas or bread for a low-calorie twist on traditional wraps. Brown lean ground turkey in a skillet with diced onions and minced garlic. Season it with your preferred spices or a splash of low-sodium soy sauce.

Baked Salmon with Steamed Vegetables
Salmon is a fantastic source of omega-3. It makes for a flavorful and nutritious meal. Season a salmon fillet with lemon juice, salt, and pepper. Next, bake it in the oven until it's tender and flaky. Add fresh lemon juice over the salmon and vegetables for extra tanginess.
Also, read –
3 Healthy Warm Lunch Recipes
These recipes are full of flavor and provide a good nutritional balance. So keep an eye out for some delicious meals!
Quinoa-Stuffed Bell Peppers
Ingredients:
3 bell peppers (any color)
1 cup cooked quinoa
1 can black beans, drained and rinsed
1 cup diced tomatoes
1/2 cup corn kernels
1/2 cup diced onion
1/2 cup shredded cheddar cheese (optional)
1 tablespoon olive oil
1 teaspoon chili powder
1/2 teaspoon cumin
Salt and pepper to taste
Cooking Directions:
To start cooking, prepare your oven to 375°F (190°C). Remove the bell pepper tops, scrape the seeds, and set aside.
First, use a large skillet and heat some olive oil on medium heat. Then, add some diced onions and sauté them until they become translucent.
Add diced tomatoes, black beans, and corn to the skillet. Stir in chili powder, cumin, salt, and pepper. Cook for 3-4 minutes until heated through.
Empty the skillet from heat and stir in cooked quinoa. Adjust the seasoning if needed.
Fill the bell peppers with the quinoa mixture and put them in a baking dish.
If desired, sprinkle shredded cheddar cheese on top of the stuffed peppers.
To prepare the dish, cover it with foil & bake it for 25-30 min until the peppers become tender and the cheese melts. Allow the stuffed peppers to cool slightly before serving. Enjoy!
Also, read – Is Tofu Good for Weight Loss?
Spinach & Feta Stuffed Chicken Breast
Ingredients:
2 boneless, skinless chicken breasts
2 cups fresh spinach leaves
1/4 cup crumbled feta cheese
2 cloves garlic, minced
1 tablespoon olive oil
1/2 teaspoon dried oregano
Salt and pepper to taste
Cooking Directions:
Prepare your oven to 375°F. Slice each chicken breast horizontally to create a pocket for stuffing.
Heat olive oil over medium heat. Add minced garlic and sauté until fragrant.
Add fresh spinach leaves to the skillet and cook until wilted.
After cooling, remove any excess liquid from the spinach by squeezing it out and then transfer it to a bowl. Stir in crumbled feta cheese, dried oregano, salt, and pepper.
Stuff each chicken breast with the spinach and feta mixture, then secure it with toothpicks.
To prepare, put the stuffed chicken breasts in a baking dish and generously drizzle them with olive oil.
Bake for approximately 25-30 min or till the chicken is cooked & no pink in the center.
Remove the toothpicks before serving. Enjoy your tasty and nutritious stuffed chicken breast!
Lentil Curry with Brown Rice
Ingredients:
1 cup dried brown lentils
1 onion, finely chopped
2 cloves garlic, minced
1 tablespoon curry powder
1 teaspoon ground cumin
1/2 teaspoon ground turmeric
1/2 teaspoon ground ginger
1 can of coconut milk
1 cup vegetable broth
2 cups cooked brown rice
Fresh cilantro, chopped (for garnish)
Salt and pepper to taste
Cooking Directions:
Begin by rinsing the lentils under water and draining them—heat olive oil over medium heat. Add chopped onion and sauté until softened.
Add minced garlic, curry powder, cumin, turmeric, and ginger to the pot. Stir for about a minute until fragrant.
Combine lentils, coconut milk, and vegetable broth to prepare the dish in a pot. To cook the lentils to your desired tenderness, fetch the mixture to a boil & turn off the heat.
Season with salt and pepper to taste.
Serve the lentil curry over cooked brown rice and garnish with freshly chopped cilantro.
Enjoy your warm and flavorful lentil curry with brown rice!
There are three delicious and healthy hot lunch recipes to brighten up your midday meals. They're packed with nutrients and bursting with flavors that will make you eagerly anticipate lunchtime. So enjoy preparing and savoring these delightful dishes!
Also, read – Nutella Nutrition Facts
Sandwich Substitute – Low in Calories and High in Nutrition
Here're five fantastic options that will fulfill your taste buds & energize you throughout the day. So let's dive right in!
Swap out the bread for large lettuce leaves, such as romaine or iceberg, and use them as a wrap for your favored fillings. You can choose a protein-packed option like grilled chicken or tofu and add crunchy vegetables like bell peppers, carrots, and cucumbers.
Collard greens are an excellent replacement for tortillas or bread. Blanch the collard greens quickly in boiling water to soften them, then fill them with lean proteins like turkey slices, hummus, avocado, and sliced veggies.
If you're a sushi lover, you'll enjoy using nori sheets as a substitute for bread. Spread mashed avocado or hummus on the nori sheet, add slices of smoked salmon or grilled tofu, and top it with fresh veggies like cucumber, bell peppers, and sprouts.
Rice paper rolls are a fantastic option for getting creative with fillings. Soak a rice paper sheet in water to make a delicious rice paper roll until it becomes stretchy. Then, fill it with various colorful vegetables such as shredded carrots, bean sprouts, and mint leaves, and add cooked shrimp or tofu as desired.
Whole wheat or whole grain pitas can be a healthy alternative to regular bread. Fill them with grilled vegetables such as zucchini, eggplant, mushrooms, and onions.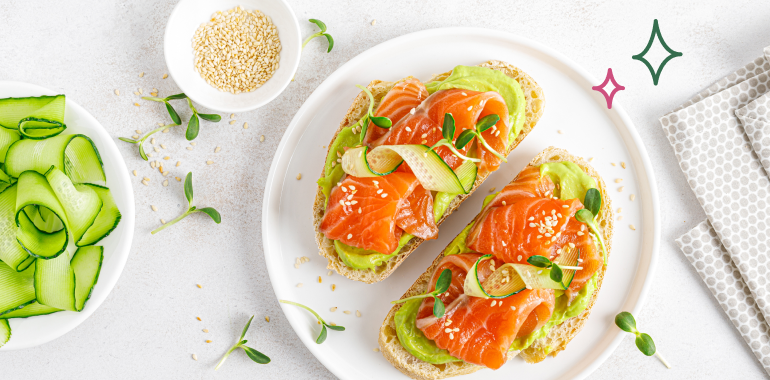 Ensure Your Healthy Warm Lunch Ideas with 4 Simple Meal Prep Tips
1. Batch cooking
It's one of the best ways to facilitate your lunch prep. Choose a day of the week to prepare a big batch of healthy protein (such as grilled chicken, baked tofu, or lentils) and various roasted or steamed vegetables. Then, divide them into individual containers, and you'll have the building blocks for your lunches throughout the week.
2. Mason jar salads
If you enjoy fresh salads, mason jar salads are a game-changer. First, layer your ingredients in a mason jar, starting with the dressing at the bottom, heeded by sturdy vegetables, proteins, and leafy greens at the top. Then, when it's time to eat, shake the jar, and you'll have a perfectly dressed salad.
3. Pre-cut and portion fruits and veggies
Save time during the week by pre-cutting and portioning your fruits and veggies. Wash and chop them into snack-sized portions, and store them in containers or resealable bags. This way, when you're ready to pack your lunch, you only need to grab a prepped portion and add it to your meal.
4. Portion control with containers
Investing in portion control containers can be a game-changer for meal prepping. These containers come in different sizes, making it easy to pack balanced meals with appropriate portions of protein, grains, and veggies. They help you stay on track!
Also, read – Low Carb Breakfast Without Eggs: Ideas & Advice
Final Words
We understand that eating healthy can be difficult, especially when you're on the go. Clean eating lunch ideas for weight loss, on the other hand, can be less stressful with some planning and understanding of your body's needs!
Hopefully, these easy and healthy lunch ideas for busy women have inspired you to make healthier choices during your hectic day. Plus, shedding those pounds never has to be boring – so many different flavors, foods, and spices are available to work with!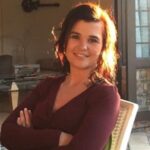 Carmen Van Rensburg is an Accredited Exercise Physiologist with a wealth of experience, spanning over 12 years in the field. She has demonstrated expertise in devising exercise-based rehabilitation services that promote wellness and recovery. Her instructive techniques in conducting safe and effective exercise sessions have significantly aided individuals in various areas. These include weight loss, improving muscle strength, optimizing cardiovascular function, enhancing body composition, increasing flexibility, and facilitating recovery from chronic diseases, disabilities, and injuries.