Recipes for Healthy Smoothies for Weight Loss
Healthy Smoothies for Weight Loss
There are plenty of diet plans on the internet that promise fast and easy results. But do any of these diet plans actually work for losing weight? Smoothies are delicious and refreshing beverages during any time of the day or season. Consuming more smoothies is a tasty way to get more nutrients and may even help you shed some pounds.
Keep reading to learn more about how smoothies can help you lose weight and smoothie recipes to get you started.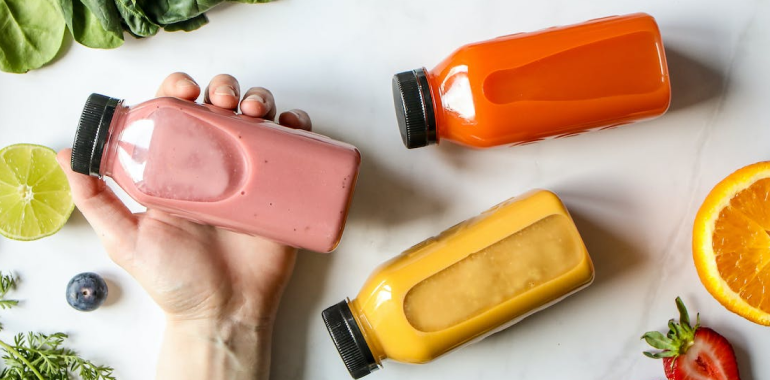 What Is the 21-day Smoothie Challenge?
The 21-day smoothie challenge is a diet plan created by health coach and author David Sgoutas. The diet plan is designed to detox your body with nutritious fruits, veggies, and other healthy ingredients. It can also help you lose weight according to the 21-day smoothie challenge e-book creator.
On the 21-day smoothie challenge diet plan, you must replace two meals per day (either breakfast, lunch, or dinner) with smoothies. You are only allowed one meal and two snacks per day of solid food. These foods must consist of whole grains, fruits, vegetables, healthy fats, and lean proteins.
Are Smoothies Good for Losing Weight?
Weight loss depends on creating a calorie deficit. Unless you consume fewer calories than you burn, you won't see any results. Replacing regular meals with smoothies may help you lose weight simply because they contain fewer calories than you may eat normally.
Smoothies are generally lower in calories due to their ingredients. Most low-calorie smoothies for weight loss consist of ingredients like healthy fruits, veggies, milk, coconut milk, green juice, or water. Smoothies can combine highly nutrient-dense foods in the space of a blender.
The dense nutrients and the smoothie's high-water content fill meal replacements to satisfy your hunger. So, while you are consuming fewer calories, you feel more satisfied. Replacing your meals with smoothies can make weight loss easier for this reason. Additionally, making smoothies requires no cooking or complicated recipes. A smoothie can be whipped up in a matter of minutes, which is attractive to those who don't have time to make healthy meals.
Are Healthy Smoothies Good for Weight Loss?
Not sure what to put in a smoothie for weight loss? No worries, we'll go over the basics of creating a healthy smoothie for weight loss as well as share some smoothie recipes. It's important to note that a weight loss smoothie is different than a smoothie or shake you might get at a restaurant or fast-food joint. Many restaurants and fast-food joints add unhealthy and fattening ingredients like refined sugars, artificial flavors, and heavy creams.
If weight loss is your goal, you should stick to homemade smoothie recipes using natural ingredients. Below are some common ingredients for weight loss smoothies you should consider:
Also, read – All About Fat-Free Diets
Greens
Green veggies and plants like kale, spinach, spirulina, and Swiss chard are full of essential B vitamins, zinc, and folate. These nutrients are beneficial to your overall health and energy levels. In addition, green veggies and plants contain high amounts of fiber, which aids in the digestion process and keeps you feeling full longer.
Healthy Fats
Healthy fats such as those found in avocados, nuts, seeds, and MCT oil are beneficial to heart and brain health. They also help to slow digestion and increase your feelings of satiety.
Fiber-Rich Foods
Fiber-rich foods such as oats, chia seeds, and flax seeds greatly add to any smoothie recipe. Fiber creates bulk, which helps keep you feeling fuller for longer.
Fruits
The main and likely favorite ingredient in most smoothies is fruits. Fruits are naturally sweet plant foods that contain essential vitamins, minerals, and fiber. They mask the taste of bitter ingredients, like greens, and make your smoothie more appetizing. Common fruits for smoothies include bananas, berries, and pineapple.

Protein
Protein is a main, critical component of building lean muscle. If you're pumping the weights regularly, you need to increase your protein intake to build stronger muscles. Including a protein source such as milk or protein powders supports muscle growth while also increasing satiety. Just make sure you opt for a protein source or powder that contains no added sugars.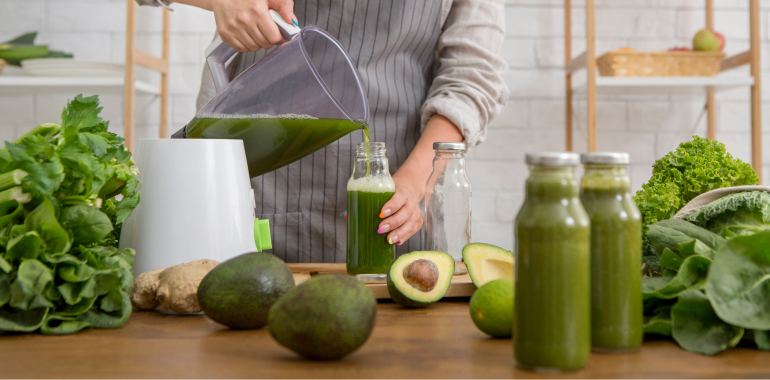 Healthy Easy Smoothies and Weight Loss Smoothies
Replace any one of your regular meals or drinks with one of the below smoothie recipes for weight loss. Many of these low-calorie smoothies for weight loss incorporate fat-burning ingredients like cinnamon, lemon juice, and cayenne pepper. All you need is a blender and a refrigerator stocked full of healthy fruits, veggies, milk, and plant milk.
Fruit Smoothies for Weight Loss
Spicy Pina Colada
1 banana
½ cup frozen pineapple
1-2 cups unsweetened coconut milk (found in the dairy aisle not can)
½ teaspoon cayenne pepper to taste
Combine all ingredients in a blender and serve for one of the most delicious shakes to help you lose weight. The sweetness from the pineapple offsets the cayenne pepper and aids in boosting metabolism yet. This smoothie recipe is perfect for days your metabolism and taste buds need a kick.
Banana Cherry Shake
1 banana
½ cup pitted frozen or fresh dark cherries
1 cup fresh spinach
1 cup orange juice
Blend ingredients together in a blender. Add more orange juice or water until desired thickness is reached. With this fruit smoothie recipe, you'll get a serving of greens but won't notice their bitter taste thanks to the sweetness of the fruit.
Green Smoothies for Weight Loss
Mean Greens
1 cup fresh spinach
1 cup Swiss chard
1 teaspoon spirulina powder
½ cup lemon juice
½ teaspoon cayenne pepper
½ tablespoon maple syrup
½ cup water
Combine all ingredients in a blender until blended smooth. Add more water if necessary. The Mean Greens smoothie combines metabolism-boosting ingredients like cayenne pepper and lemon juice. It's low in sugar except for the maple syrup which adds just a hint of sweetness to mask the bitterness of the other ingredients. Mean Greens works great as a great detox smoothie.
Also, read – Paleo vs. Keto: Which Diet Will Work Best for You?
Cucumber Mint Smoothie
1 cup sliced English cucumber
2 cups fresh or frozen pineapple chunks
1 cup fresh spinach
1 small apple cored and chopped
10 or more mint leaves with stems
1 cup water
Blend all ingredients together until smooth. Add more water if necessary. The fruit ingredients add just a hint of sweetness to green smoothies for weight loss.
Protein Smoothies for Weight Loss / Fat Loss Smoothie
Chocolate Berry Protein Smoothie
1 banana
1 cup fresh spinach
½ cup frozen or fresh raspberries
1 tablespoon preferred nut butter
2 tablespoons raw cocoa powder
1 cup milk or choice of unsweetened plant milk
1 scoop or serving of unsweetened protein powder
½ teaspoon cinnamon
Blend protein smoothie recipe ingredients together in a blender and serve. The chocolate berry protein smoothie is higher in calories and fat than most fruit smoothies. It makes a great post-workout smoothie for when you are trying to build muscle.
Blueberry Vanilla Protein Smoothie
1 banana
1 cup fresh spinach
1 tablespoon Chia seeds
½ cup fresh or frozen blueberries
1 ½ cup milk or plant-based milk
1 scoop or serving of unsweetened protein powder
½ teaspoon vanilla extract
Blend ingredients together in a blender until smooth. The blueberry vanilla smoothie tastes like a yummy vanilla berry milkshake without the added calories and sugar.
Almond Milk Smoothies for Weight Loss
Creamy Green Pineapple Smoothie
1 cup chopped kale
½ cup frozen or fresh pineapple chunks
½ cup unsweetened plain Greek yogurt
1 cup almond milk
1 teaspoon honey
1 teaspoon cinnamon
Blend ingredients together until smooth and creamy. Greek yogurt makes this smoothie more creamy while also boosting protein content.
Also, read – The Best Food To Increase Libido Female
Oatmeal Cookie Smoothie
½ cup uncooked old-fashioned oats
1 cup almond milk
1 tablespoon unsweetened cocoa powder
1 teaspoon cinnamon
½ tablespoon honey, maple syrup, or Agave nectar
1 banana fresh or frozen
Blend ingredients together until smooth. Add cinnamon and sweetener to taste. The oatmeal cookie smoothie is a great choice for when you want dessert without ruining your diet.
The Takeaway
Smoothies are delicious, healthy, and easy ways to get nutrients from food. Following a smoothie diet can help you stay on track with your diet, thus making weight loss easier. Use these healthy smoothie recipes as a guide to help you on your own weight loss journey.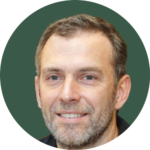 William is from Canada, he is passionate nutrition & wellness writer. William understands that the topic of wellness is still not well understood, so his goal is to enlighten and teach people how to live healthier and happier in their bodies.