Mindful Weight Loss With Lasta Is Now Available for Androids!
Everybody deserves to live in a body they are comfortable with, regardless of what operating system is installed on their mobile device. Therefore, we are thrilled to announce that the Lasta app is not available on Android devices!
What's So Special About the Lasta Android App?
Lasta is a one-of-a-kind wellness and weight loss app because it combines three primary components to automatically generate a mindful eating plan for its users. With Lasta, meal planning, intermittent fasting, and weight loss psychology are the three components that work together to help you achieve your ideal body.
Here's how it works:
1. Healthy & Mindful Dieting
Planning meals in a way that is both conscientious and well-balanced can lead to significant weight loss. Your weight loss goals, your current medical situation requirements, and your personal preferences should all be considered when making adjustments to your nutrition plan.
The meal plans at Lasta are designed to provide your body with the necessary nutrients while ensuring that you consume the fewest possible calories. This allows you to feel satisfied while also making steady progress toward your fitness goals.
2. Intermittent Fasting
Intermittent fasting (IF) is a proven method of dieting that can reduce calorie intake, promote fat loss, and improve overall health. You are able to select a fasting schedule and adhere to it when you use the Lasta fasting tracker. We will keep you informed about the eating and fasting times you have selected and the processes initiated by fasting. Every hour, you can see how fasting is affecting your body by checking your body's status on the fasting tracker.
3. Weight Loss and Eating Psychology
Not only do we want to instruct you on how to eat nutritiously, but we also want to help you alter your perspective on food and overcome any unhealthy habits or eating disorders you may have. Developing your own food-related philosophy with the assistance of our psychology guide is one way to accomplish this goal.
Compared to Play Store, the selection of weight loss apps available for iOS users is large and diverse, whereas, on Play Store, the selection is much more limited. As a result, we are pleased to be able to make a positive contribution to the healthy lifestyles of Android users by providing them with an all-encompassing wellness app assistant that provides constant support, direction, and motivation on the path toward achieving their goals of looking and feeling better, as well as losing weight.
What Are The Features Accessible For Free?
Speaking about comprehensiveness, let's take a look at the features. Android Lasta app has all the tools to track your progress. Here's what you can have for free:
Intermittent fasting tracker
Mood tracker
Step Counter
Physical activity tracker
A daily dose of support and motivation to keep going
The most impressive feature is that you can keep track of everything in a single app and then evaluate your daily, monthly, and even yearly statistics in a journal.
In this way, you are able to see and compare your previous results with the current ones in the journal, as well as identify the connections between your mood, levels of physical activity, fasting schedule, and the progression of your weight loss. Figure out the patterns that are getting in the way of your advancement and those that are helping you move forward.
What Are The Premium Features?
You can go further and change your eating habits, mood-food connection, and the way you see yourself with Lasta science-based eating psychology and individual meal planning. Here's what you get with Lasta premium plan:
Health & Fitness-related content (meditations, lessons, articles, audio, video, knowledge base, etc.).
Meal plans for various food preferences – vegetarians, keto, paleo, dash, diabetics, & breastfeeding moms.
Library of the recipes.
CBT psychology course for weight loss & building healthy eating habits.
Our experts merged academic knowledge with the individual approach to bring mindfulness to your transformation with Lasta, now available both for iOS and Androids.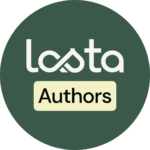 We are an Inspired team of writers who are passionate about writing on the topic of a healthy approach to Nutrition and Wellness. We are guided in our writing by our knowledge and experience as well as open official medical and health sources.