Lasta Vs. Noom Review: Which One Is Right For You?
Apps such as Last and Noom have similar features, with a slight difference. Noom features automatic weekly check-in and coaches, while Lasta features Registered Dietitians. In addition, no food rules exist in Noom, while Lasta has specific meal plans.
However, they are one of the best mobile applications designated to assist you in living a healthy life. In fact, as of 2018, Noom is one of the top searched diet terms.
Both apps have unique features that focus on encouraging healthy living through meal planning, balancing nutritional needs, and assisting a healthy weight loss through a psychological approach without compromising your lifestyle.
If this is the first time you heard about the apps, or you've already heard about them but are confused about which one to go for, then worry no more; we are here to guide you. This article will highlight each app's features and what makes it a must-have. Continue reading to get a head start.
Now, let's look at each app in detail.
What can you expect from Noom Diet?
Noom diet is a psychology-based program that operates with the belief in balance. The food items are classified into three categories: green symbolizes low-calorie food, yellow means average, and red means high calories. Let's look at each color and see the foods.
The food items in green have low calories meaning they are the safest among the three. There is even a no-calorie limit in this category. Most of the foods in green are nutritious, with many fruits and veggies. Other food items in green include whole grain bread, rolled oats, tofu, quinoa, shrimp, salsa, unsweetened milk alternatives, white fish, Greek yogurt, egg whites, and many other options.
The food in yellow has more calories and is less nutritious than green food. You can incorporate these foods into your daily eating but less frequently green. The food in yellow includes lean meat, turkey breast, grilled chicken tuna, and lean beef.
There are also a few vegetarian and vegan-friendly protein sources like eggs, black beans, chickpeas, and other random foods like Greek yogurt, avocado, popcorn, instant potatoes, etc.
Primarily red means danger, but that's not the case here. Food in red is high in calories and is the least nutritious. Usually suggests limiting the incorporation of red foods into your diet.
However, most food items in red include oils, fats, seeds, nuts, and desserts like pie and ale. Other food items here are frozen entrees, jerky, dried fruits, crackers, and many more.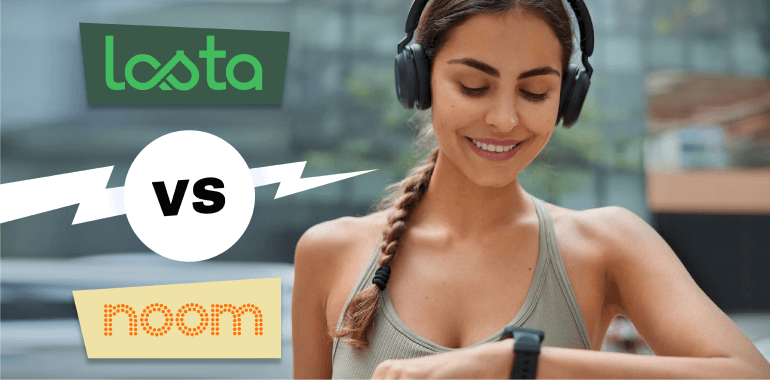 What we found about the Noom app
The app is a scientifically proven mobile application subscription service that assists in weight loss by encouraging daily behavioral changes. Among the features include Noom weight loss and Noom meal plan. The app first debuted in 2008 as a simple fitness and calorie tracker.
But later, in 2016, the app added more features, including psychological and behavioral change components, user support, and personal coaches. The app will also connect you to other users to share tips and tricks for weight loss.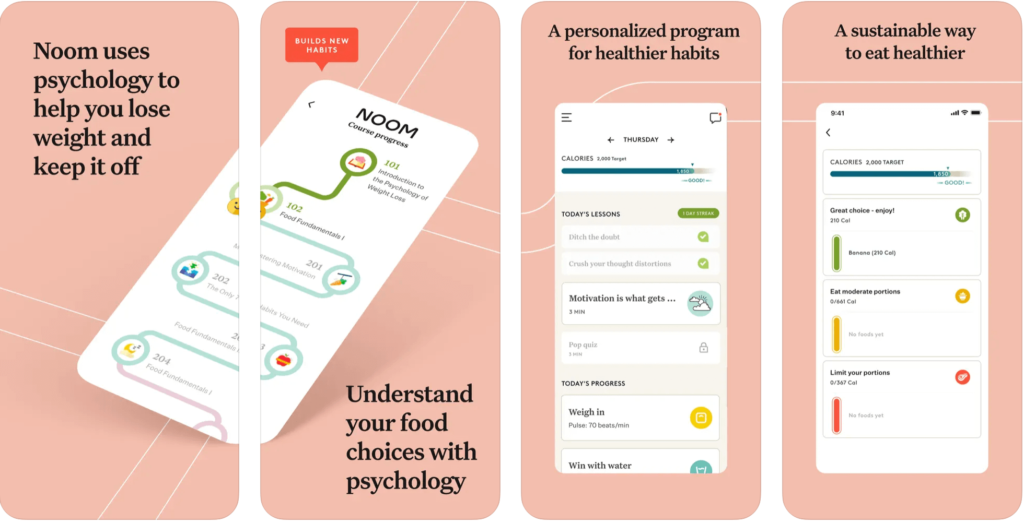 Noom Free Trial – a good chance to try it out
The app offers a 2- week's free trial that allows you to explore the app, after which you can decide to continue for a small price. For example, a month's Noom subscription costs $59, but when you sign up for 12- months, the cost for each month, if you divide the money, is $17, so it's better to sign up annually than monthly.
Noom Quiz helps to customize the profile as desired
When you start, you will first answer a 10-minute online quiz on the website or app that asks questions about your life and habits like what's your height, weight, gender, age, the reason you want to lose weight, have any life events led to weight gain in the last few years and other related questions.
Interestingly, you will be assigned a coach and eating recommendations from here. You will also have access to built-in tools that will assist you in tracking your fitness, food, blood pressure, and sugar level. Most of the advice in Noom comes as short tips or quizzes.
What is Lasta? One-stop app for all your fasting needs
Lasta's approach to weight loss is both innovative and effective. Incorporating intermittent fasting practices helps people to teach their bodies to consume food only during the designated eating window.
Not only does this mean progress over time that does not plateau or cause weight gain, but it's also easier for the individual as their body adjusts with less effort.

Moreover, Lasta is now offering its users new features to maximize the efficiency of cooperation:
Daily stories on the Lasta app blog or search for specific topics in lessons and courses available in the Mind tab.
Different methods of fasting to users based on intermittent fasting hours.
Timely tips to motivate you daily.
Goal tracking to meet your needs.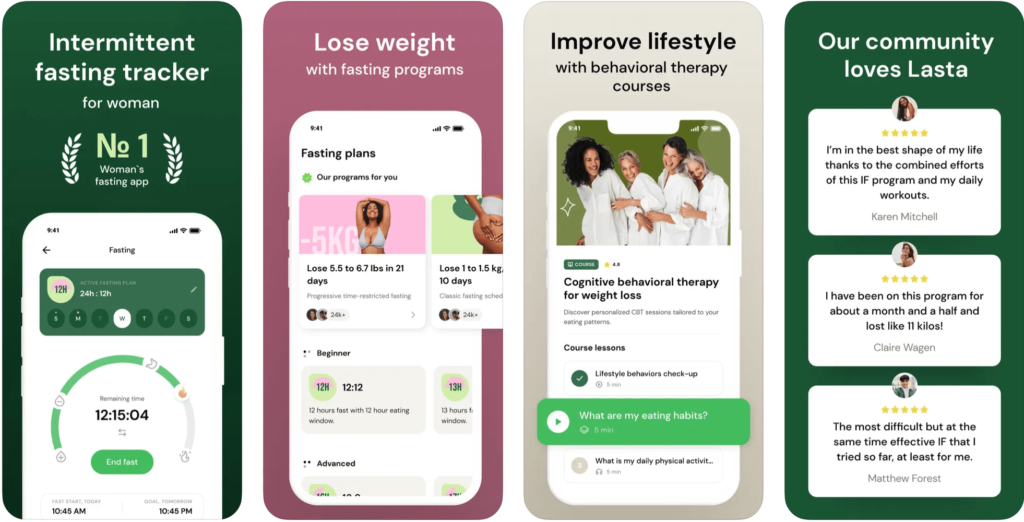 Lasta App – a comprehensive approach to weight loss
Lasta is a wellness application that provides its user with personalized meal planning, audio, and cognitive behavioral therapy. Trackers include a fasting tracker, weight tracker, and water tracker. Features like intermittent fasting, mindful eating, CBT Psychology, and meal planning.
Experience the Lasta intermittent fasting with a user-friendly approach!
A Lasta fasting app is a tool for those looking to fast in an organized and effective manner. Offering customized and guided fasting plans makes tracking your daily routine a breeze.
Its user-friendly interface simplifies setting goals, monitoring progress, and staying motivated. By providing helpful reminders to keep users on track, this app allows them to adjust their fasting schedule as needed easily.
Lasta's fasting mechanism is unique – it leverages machine learning to provide users with personalized fasting plans based on intermittent fasting hours. It considers different fasting methods and a user's schedule and lifestyle to craft an individualized fast expertly.
Lasta Meal Plan surprises with the number of options
Since planning meals that will fit your daily fitness goals and taste is often challenging, the Lasta meal plan is the best option because it will quickly help you find the best meal plan that suits your dietary needs and lifestyle. An expert, a registered dietitian, develops the meal plans. You can also track your meals and even edit your meal plan easily.
Lasta CBT Psychology – Transform your relationship with food through
Lasta collaborates with qualified psychologists to develop supportive tools based on Cognitive Behavioral Therapy, which can help users transform their well-being from the inside out.
Lasta's CBT Psychology offering includes:
30-day guided course on CBT and healthy living
various audio formats with content
library with meditation tracks and resources
Lasts Free Trial – a great chance to fall in love
To start your weight loss journey, you must download the application from the app store. But, you will need an iOS version 14.5 to use the app, and there is no Android version of the app for now. However, the lasta free trial will allow you to explore the app's features.
Lasta Quiz works as a real nutritionist
Last provides a comprehensive quiz to help you determine the best meal plans for your wellness goals. You will be asked questions like whether you want to lose weight, get in shape, or want to feel healthier. In the quiz, you can also choose your favorite plan.
See what users rave about with Lasta reviews
Real lasta app reviews by users of Lasta overwhelmingly report high satisfaction with their experience. With its intuitive built-in widgets and shortcuts, Lasta provides an accessible way to track diet efficiently.
"But since I started using Lasta, everything has changed! The app helps me track my intermittent fasting progress, understand my body's needs, and motivate me throughout the journey." (User Mary)
"The interface is lovely! Whenever I receive a pop-up congratulating me on my achievements, it boosts my mood." (User Steve)
"I appreciate the Lasta app because I was able to lose weight without spending too much time on cooking or meal preparation. I've lost 3 stones through fasting and I didn't have to worry about cooking or prepping food a lot." (User Uliana)
Is Lasta a free app? – You need to know!
Lasta is committed to providing an excellent experience for its users. Recently, they've been hard at work improving the app and coming up with innovative ways to add even more features to make it serve you better.
Unfortunately, all of these resources invested in developing and maintaining the app are reflected – a short free version of the Lasta app exists.
Lasta app cost: Start fasting journey without breaking the bank
The Lasta app is available for free download on both the Android and Apple app stores, but to access all of the app's features, you need to upgrade to the paid version, which costs $35 per month with an annual subscription.
However, there is currently an opportunity to receive a discount and pay only $11.99 monthly!
How do I cancel my Lasta app?
To cancel your subscription, open your device's Settings and navigate to the "Subscriptions" section. Locate the Lasta subscription you wish to cancel, select it, then click "Cancel."
Also, you can contact the support service to cancel your subscription or change the plan in the app.
Bottom Line: Choose between the best!
Technology has already made living a healthy life easy and less challenging. Even though the apps can help you maintain a healthy lifestyle, you must use them to get started. Suppose you take advantage of the app every day and use them properly. You will have a direct and truthful result. Moreover, a lot of reviewers found Noom and Lasta programs helpful.