Explore Eye-Opening Analytical Data on the Impact of Stress in the Lives of Americans Today!
Hi there! In this piece, we'll be discussing stress among Americans. We'll cover a few key questions, like how much stress people are experiencing, what things tend to cause anxiety, which groups of people are more likely to feel stressed out, what kind of symptoms someone might experience when they're stressed, and what methods folks in the US tend to use to deal with stress.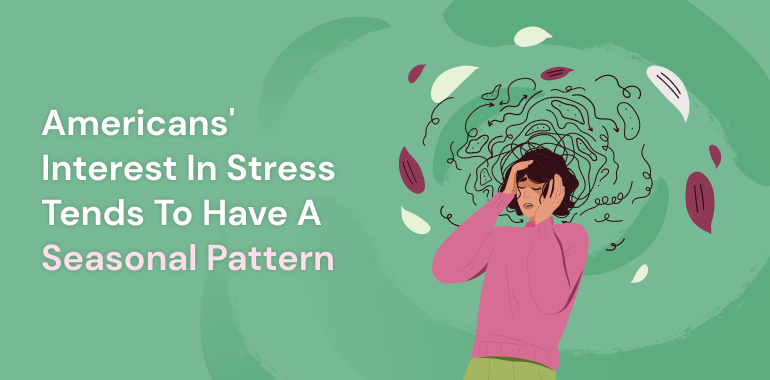 A recent report by the International Food Information Council (IFIC) in 2022 found that 56% of Americans said they have been experiencing some degree of stress over the past six months, with some describing their stress levels as "very" or "somewhat" high [1].
In addition, data from the American Institute Of Stress show that in general 55% of Americans are stressed during the day and around 33% of people report feeling extreme stress [2].
Based on insights from Google trends, the search term "stress" has consistently generated high interest over the past 5 years. However, it's important to note that Americans' interest in stress tends to have a seasonal pattern. Specifically, the topic of stress tends to generate higher interest during the autumn and spring seasons, while interest tends to decline during the summer and Christmas holidays [3].
Numerous researchers and their findings confirm that stress is a significant and enduring topic for Americans, one that has remained relevant for many years.
Before we dive into ways to cope with stress, let's take a look at some of the things that can cause stress in the first place. According to a survey conducted by the American Psychological Association, there are a few factors that seem to be particularly stressful for Americans. These include inflation (83%), concerns about the future of our nation (76%), violence or crime (75%), mass shootings (73%), and gun violence (72%). It's worth noting that healthcare made it to the second position of the stress rating in 2020 during the pandemic, which is pretty interesting. [4]. All in all, Nearly 8 in 10 adults (78%) say the coronavirus pandemic is a significant source of stress in their life [5]. 
This year, healthcare has actually dropped to the sixth spot on the list of things that stress out Americans. As of now, about 70% of adults in the US report feeling significant stress due to the following factors (in no particular order): work, the pandemic, money, politics, climate change, and discrimination. [4].
You make a good point! When we look at the list of top stress factors, we can see that many of them are things that individuals can't control – they're related to the economy, politics, and the behavior of others. That said, there are still things that people can do to make their lives easier when they're dealing with stressful situations.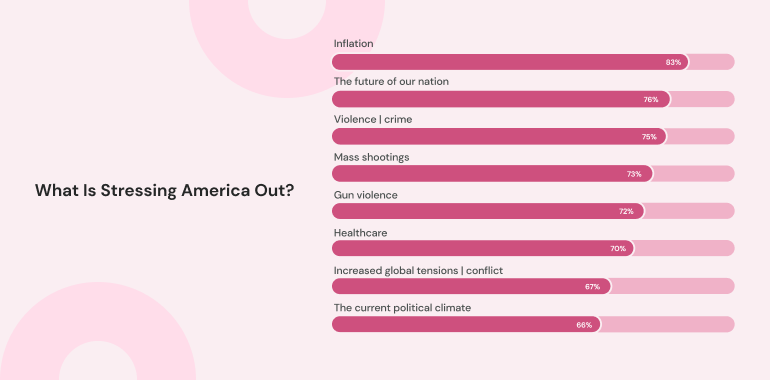 The Pew Research Center recently conducted a study investigating the rates of "high psychological distress" among Americans between March 2020 and September 2022. The study found that certain demographic groups are more likely to experience severe stress than others. Specifically, the groups with the highest rates of high psychological distress include women (48%), young people aged 18-29 (58%), individuals with low income (53%), people with disabilities (66%), and those living alone (51%). These figures are based on a combination of data from four different studies [5].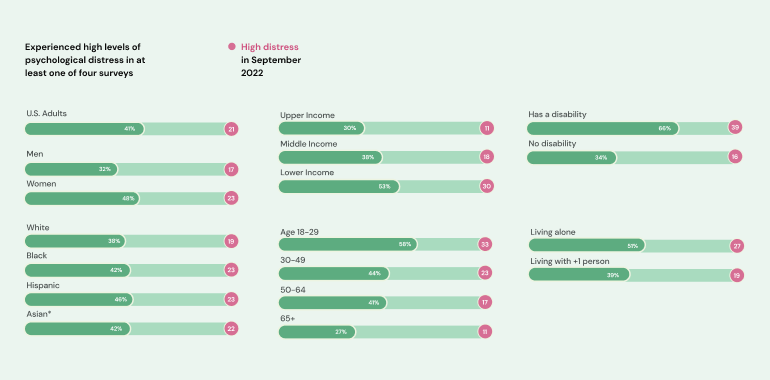 The most popular symptoms of stress are anger and irritability (45%), low energy (41%), lack of motivation or interest in things (38%), worry or anxiety (36%), headaches (36%), etc. In addition, among the top 10 symptoms of stress, a change in appetite ranks 9th (21%) [2].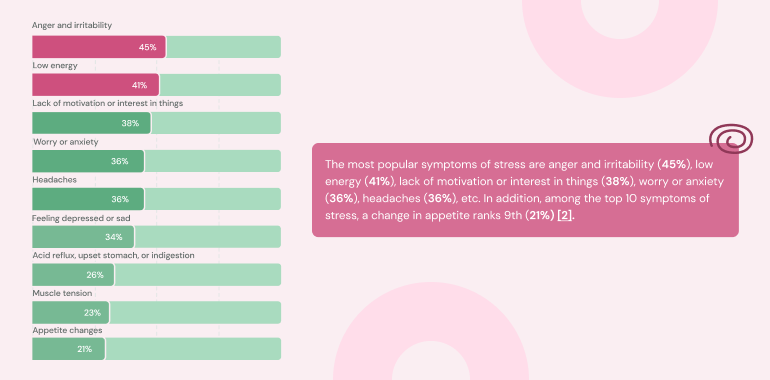 The International Food Information Council's (IFIC) Food & Health Survey 2022 has found that the frequency of snacking among Americans has increased. In fact, almost 75% of Americans now snack at least once a day. This increase in snacking frequency may be influenced by various factors, including high levels of stress and increased time spent at home [6].
People are always looking for ways to make their lives more comfortable and minimize stress. Google research shows that Americans are increasingly interested in "stress management" and searching for information about "ways to cope with stress." There has been a 30% increase in interest in these topics. This suggests that people actively seek ways to manage their stress levels and improve their overall well-being [7].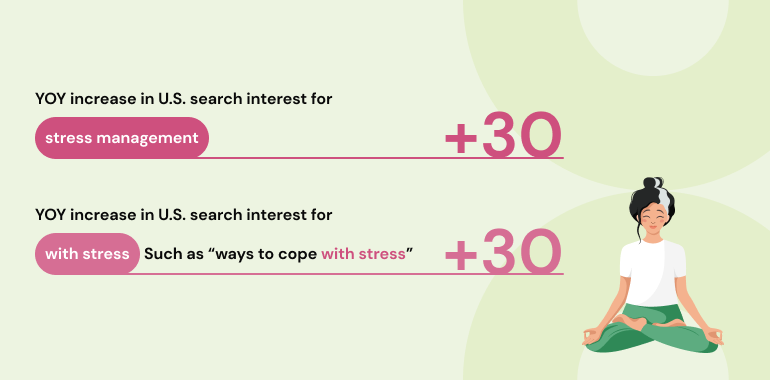 Indeed, if we combine the two search queries "stress management + with stress" in Google Trends and see what similar queries Americans seek from 2022 to nowadays. We'll see in the leaders such queries as what stress is and its symptoms and a large number of questions related to "cope with stress" (from 5th to 9th rank) [8].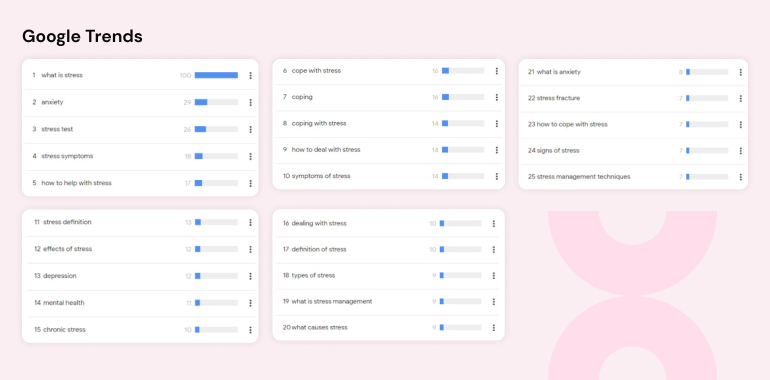 What do Americans do to cope with stress? The Ipsos TV Dallies survey for 2020 revealed that Americans use various methods to cope with stress. The most popular coping mechanisms include 57% listening to music, 48% watching online videos and streams on TV, 40% doing exercises, 34% using social networks, and 33% playing video games [9]. Most Americans turn to the media to cope with stress and seek solace there.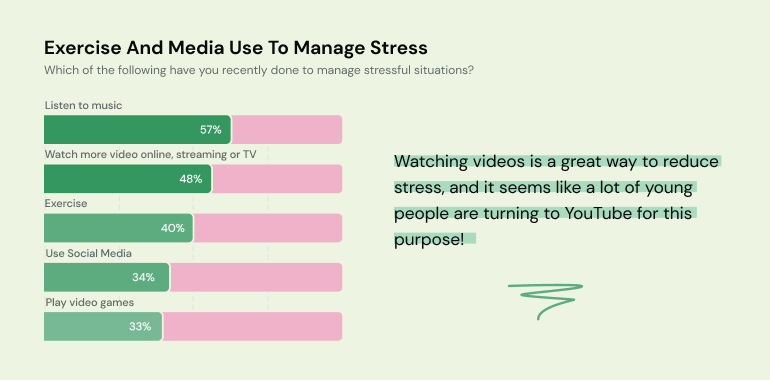 Watching videos is a great way to reduce stress, and it seems like a lot of young people are turning to YouTube for this purpose! A recent study by Ipsos found that a whopping 83% of Generation Z has used YouTube to watch calming content that helps them unwind and feel more relaxed. With all the stress of modern life, it's good to know that there are easy, accessible ways to take a break and recharge.[10].
Last but not least, Forbes reported that most Americans don't prioritize diet and nutrition changes to manage stress, with only one-third of people focusing on this aspect. Instead, people turn to other methods to improve their well-being, such as getting enough sleep (41%), engaging in physical exercise (40%), and working on their mental health (30%) [6].

In conclusion, stress is an ongoing, complex issue in American society, affecting a broad spectrum of demographics and causing a multitude of physical and psychological symptoms. The causes of stress are multifaceted, including issues as broad as politics and the economy, to personal and professional concerns. Interestingly, our research highlights that individuals are actively seeking out coping mechanisms, particularly focusing on media consumption, exercise, and social interaction. However, nutrition and diet, which have a strong correlation with stress management, are often overlooked.
It's important to note that while stress is a ubiquitous part of life, the way we manage it can significantly impact our health and well-being. Incorporating healthy habits into our daily routines can help us better cope with stress. One such habit is mindful eating, which can have a positive effect on both physical health and stress levels.
This is where the Lasta Fasting app can make a significant difference. Fasting has been shown in various studies to have numerous health benefits, including stress reduction. The Lasta Fasting app can guide you through the process of incorporating intermittent fasting into your lifestyle, potentially helping to manage stress and improve overall health.
The impact of stress is undeniable, but so is our capacity to manage it. Give the Lasta Fasting app a try and embark on a journey towards a more balanced and stress-free life.
Sources
1. The International Food Information Council's (IFIC) report, 2022, US:
https://foodinstitute.com/focus/analysis-why-dieting-is-on-the-rise/
2. The American Institute Of Stress, 2022, US:
3. Google Trends 2018-2023, US, Search requests "stress":
https://trends.google.com.ua/home?geo=UA
4. The American Psychological Association Survey, 2022, US:
https://www.statista.com/chart/19897/biggest-stress-factors-us/
5. The Pew Research Center, March 2020, April 2020, February 2021, September 2022, US:
https://www.pewresearch.org/fact-tank/2022/12/12/at-least-four-in-ten-u-s-adults-have-faced-high-levels-of-psychological-distress-during-covid-19-pandemic/
6. The International Food Information Council's (IFIC) Food & Health Survey, 2022, US:
https://foodinstitute.com/focus/analysis-why-dieting-is-on-the-rise/
7. Google Trends, U.S., search interest for terms containing "stress management," "with stress," Jan. 1, 2022–Oct. 31, 2022 vs. Jan. 1, 2021–Oct. 31, 2021:
https://www.thinkwithgoogle.com/marketing-strategies/search/work-life-balance-trends/
8. Google Trends 2022-2023, US, Search requests"stress management + with stress":
https://trends.google.com.ua/home?geo=UA
9. Ipsos TV Dallies survey, November 2020, US:
https://www.marketingcharts.com/industries/media-and-entertainment-115240
10. YouTube Culture and Trends Report, 2022, Global:
https://www.youtube.com/trends/report/2022/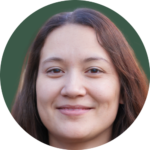 Mia Wang is Ph.D. in Nutrition. Passionate about helping others achieve their health goals through evidence-based nutrition and lifestyle solutions.