Want To Improve Your Fitness? Check Out These Eye-Opening Statistics in America!
Hey there! In this article, we'll talk about how Americans think about fitness – what they like to do to stay fit, how often they do it, and how much time they spend on it. We'll also discuss which types of fitness activities are the most popular. On top of that, we'll look at how COVID-19 has impacted the world of fitness and what kinds of trends we're seeing in fitness right now.
Many folks rely on specific tools or methods to keep themselves in good shape. To many, being fit means being healthy and attractive. These days, fitness isn't just about looking good or having a solid body – it's also about boosting mental wellness. Actually, the COVID-19 lockdowns have played a part in shaping our modern understanding of fitness.
Based on the Americans' Mental Health And Personal Spending Report of 2020, almost one-fifth (19.3%) of Americans use sports and exercise to care for their mental health. Moreover, during lockdown periods, engaging in sports and exercise was found to have the most significant positive impact on people's mental health  [1].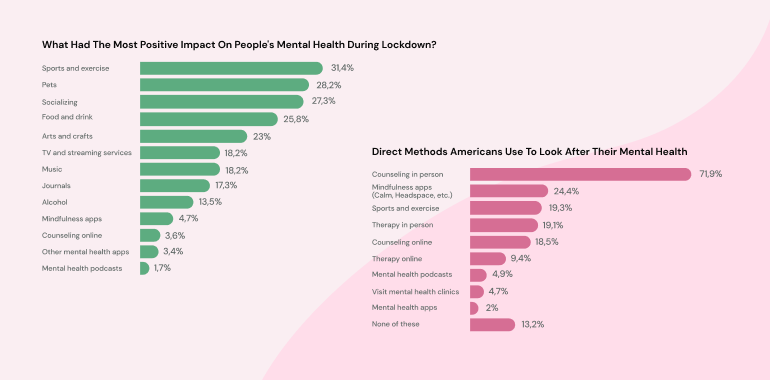 Data from Statista spanning from 2010 to 2021 shows a steady increase in the amount of time Americans spend on sports and exercise daily, with a peak in 2020 and stabilization in 2021. The rise in fitness activity in 2020 can be attributed to the COVID-19 lockdowns, which gave people more opportunities to engage in simple fitness routines at home. In 2021, the population's attention shifted to strict quarantine lifting and people returning to work. However, 21.5% of the U.S. population still be engaged in sports and exercise per day in 2021, which is higher than the 2019 figure. Additionally, there are gender differences in sports activity, with men being more likely to play sports than women – 23.4% vs 19.6% [2]. 
According to Statista, in 2021, Americans' average time on sports, exercise, and recreational activities per day was 0.32 hours. Additionally, men tend to spend more time on fitness activities than women – on average, men spend 0.4 hours per day compared to women, 0.24 hours per day [3].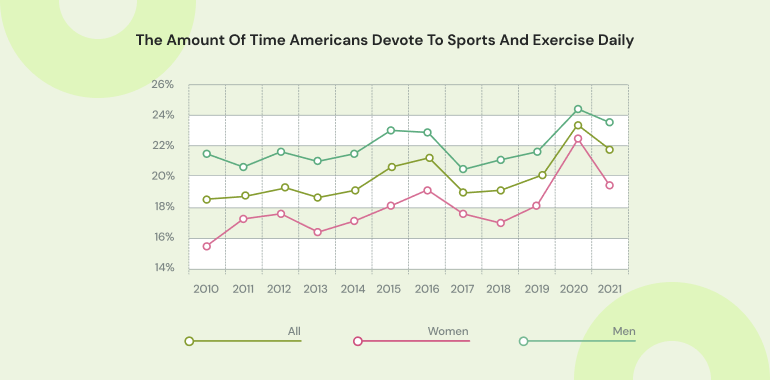 Data from Google Trends spanning from 2004 to 2023 shows that people have a sustained interest in fitness and consistently search for more information on this topic. Notably, interest in fitness tends to spike at the beginning of the year in January, when Americans are likely setting new year's resolutions and goals for themselves [4].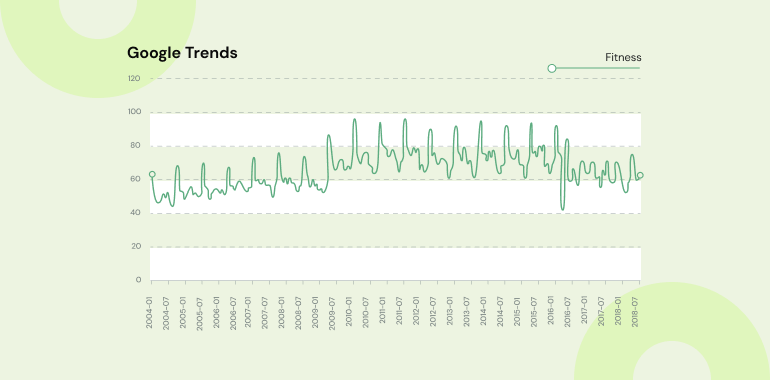 According to Google Trends Data for Fitness Category from the last 12 months (from May 2022 to May 2023), we see what topics Americans searched for most often in the context of fitness. These searches allow us to form the top fitness activities most interesting in Americans during the specified period. The leader of this list is yoga (2nd position), followed by workout (3rd position), then simple exercises (6th position), pilates (7th position), and CrossFit (12th position) [5].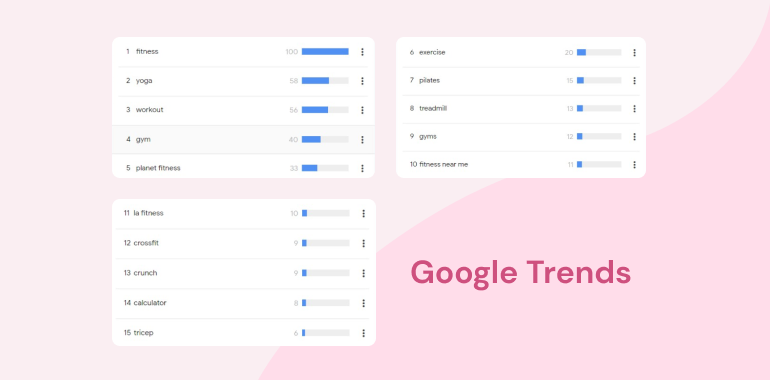 Yoga is currently the most popular type of fitness activity among Americans. According to Statista, the number of people practicing yoga in the United States has steadily increased from 2010 to 2021. As of 2021, the number of yoga practitioners has reached about 34.4 million, which is approximately 10% of the U.S. population [6]. In America, yoga is more popular among women due to the Statista. In 2022, 30% of active women practiced yoga or pilates vs 11% of men [7].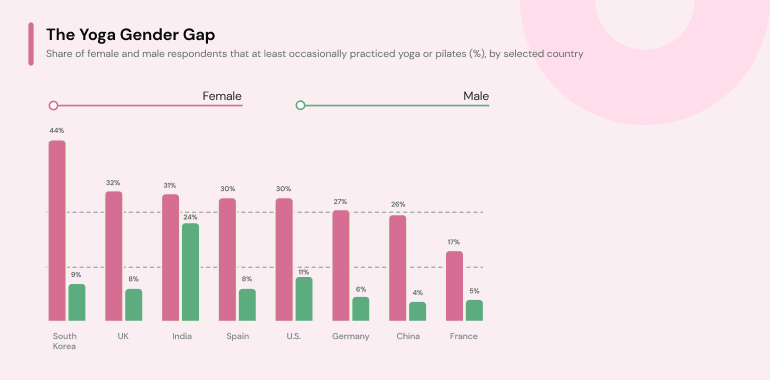 As previously mentioned, Americans have been exercising more at home during COVID-19, and this behavior has become more ingrained. In fact, according to a survey conducted by OnePoll on behalf of the AI fitness app Freeletics, two-thirds of Americans would prefer to exercise at home rather than return to the gym [8].
Data from Acumen Research and Consulting confirms the increasing interest in home fitness classes. The global home fitness market size was valued at USD 11.3 billion in 2021, and it is projected to reach USD 17.3 billion by 2030, with a compound annual growth rate (CAGR) of 4.9% from 2022 to 2030. [9].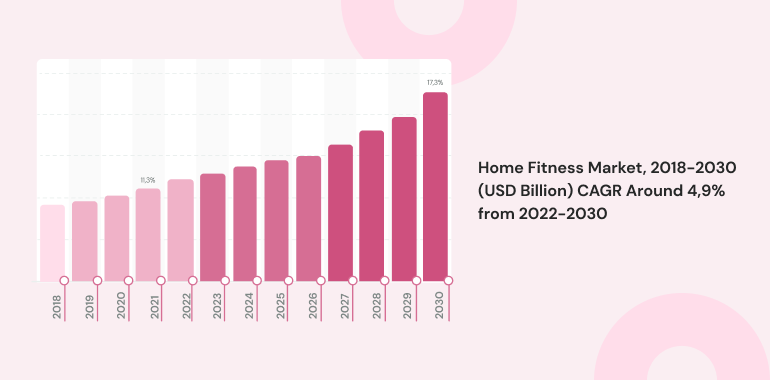 Despite the trend of working out at home, Americans are expected to continue returning to gyms. The revenue of the fitness, health, and gym club industry in the United States has begun to recover after the COVID-19 pandemic. It's expected to reach 32.02 billion U.S. dollars in 2022, according to forecasts [10]. 
According to Google Trends from 2023, we can observe the latest fitness trends among Americans. By analyzing this data, we can see that Americans are actively searching for gyms for classes, and their location is the main criterion. They use search queries such as "fitness near me" (4th position). Additionally, the gym's opening hours are also necessary, as indicated by search queries such as "24 fitness" (5th position), "24-hour fitness" (6th position), and "anytime fitness" (7th position). Another significant trend is the digitalization of sports, which makes it more accessible to Americans. Popular search queries related to this trend include "Apple fitness" (position 20) and "fitness watch" (position 22) in the list. [11].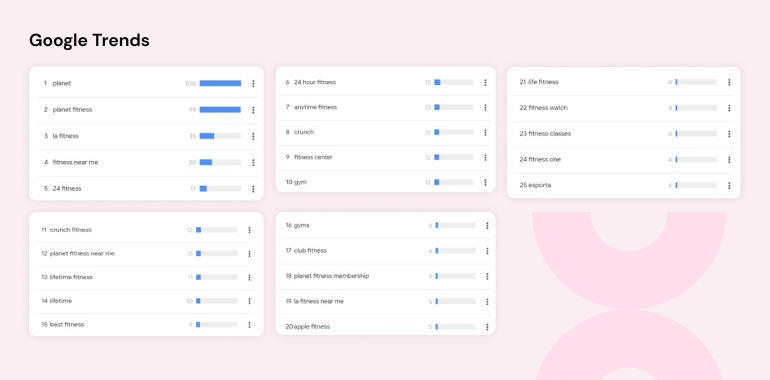 Fitness apps are becoming increasingly popular because they make it easier for people to exercise. They help guide you on your fitness journey, and it's as simple as opening up an app on your phone. According to Statista, in 2022, around 86.3 million people in the US will use health or fitness apps [12].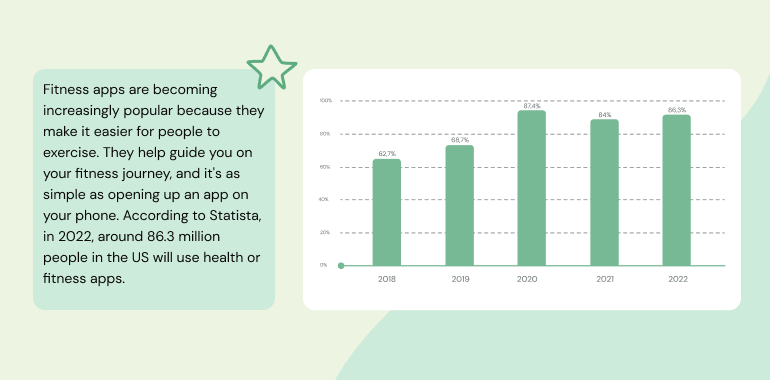 Our Power User Curve tool has shown that Fitbit has the highest percentage of engaged users among a group of fitness apps. Specifically, 36% of active Google Play installations opened the Fitbit app more than ten days a month. Other apps like Garmin Connect, Strava, and Sweatcoin followed at 31%, 27%, and 8%, respectively [13].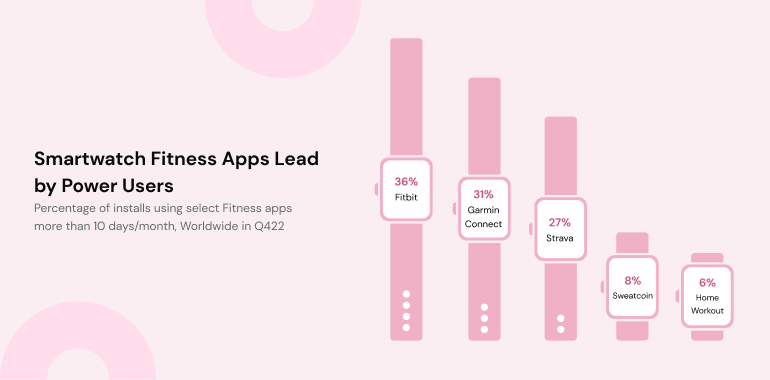 Instagram and TikTok have become popular platforms for people to share fitness-related content, and most of this content has a motivational or challenging tone. On Instagram alone, there are 135 million posts with the hashtag #fitnessmotivation [14], 24.6 billion views on the hashtag #fitnessmotivation, and 4.3 billion views on #fitnesschallenge [15].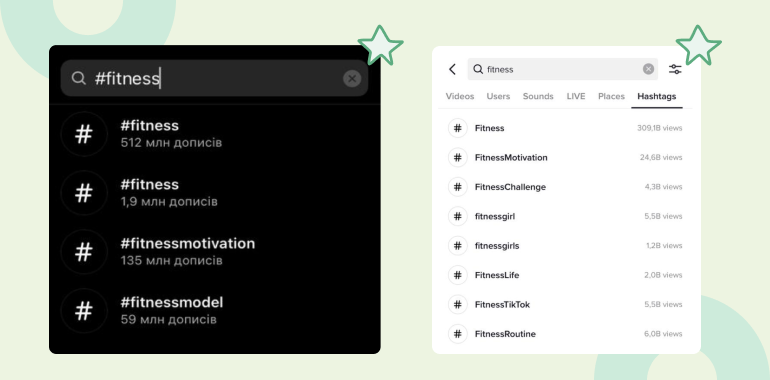 In conclusion, the landscape of fitness in America is continuously evolving, shaped by numerous factors such as accessibility, technology, and lifestyle changes, especially those prompted by the COVID-19 pandemic. We're seeing a surge in interest in home workouts, digital fitness tools, and a renewed focus on mental health. This shift in fitness preferences, along with the rise of fitness apps and social media platforms, is making it easier than ever for Americans to maintain a healthy lifestyle.
The popularity of yoga and home workouts, the increased use of fitness apps, and the explosion of fitness content on platforms like Instagram and TikTok indicate that people are seeking more personalized, convenient, and engaging ways to stay fit.
As our lives become increasingly digital, fitness apps have become essential tools for maintaining a healthy lifestyle. They provide flexibility, convenience, and personalized guidance that can help you stay motivated and achieve your fitness goals.

If you're looking for a new tool to enhance your fitness routine, why not consider the Lasta Fasting app? It's an excellent tool for those interested in incorporating intermittent fasting into their health and fitness routine. With the Lasta Fasting app, you can easily track your fasting periods, learn more about the science behind fasting, and even connect with a community of other fasters. So why wait? Download the Lasta Fasting app today and take the first step towards a healthier you!

Sources
1. Americans' Mental Health and Personal Spending Report, 2020, US
https://www.self.inc/info/mental-health-personal-spending-report/
2. Statista, Percentage of U.S. population engaged in sports and exercise per day, 2010-2021, US
https://www.statista.com/statistics/189562/daily-engagement-of-the-us-poppulation-in-sports-and-exercise/
3. Statista, Hours per day spent on sports, exercise, and recreation in the U.S, 2009-2021, US
https://www.statista.com/statistics/189535/daily-average-time-spent-on-sports-and-exercise-in-the-us/
4. Google Trends 2004-2023, Search requests "fitness", US
https://trends.google.com.ua/home?geo=US
5. Google Trends May 2022- May 2023, Category Fitness, US
https://trends.google.com.ua/home?geo=US
6. Statista, Yoga participation in the U.S, 2010-2021, US
https://www.statista.com/statistics/191625/participants-in-yoga-in-the-us-since-2008/
7. Statista, Who's Practicing Yoga, 2022, US
https://www.statista.com/chart/27653/yoga-men-and-women-by-country/
8. AI fitness app Freeletics, 2021, US
https://studyfinds.org/two-thirds-would-rather-exercise-at-home-than-gym/
9. Report by Acumen Research and Consulting, 2022 – 2030, Global
https://www.globenewswire.com/en/news-release/2022/10/13/2534072/0/en/Home-Fitness-Market-Size-Will-Attain-USD-17-3-Billion-by-2030-growing-at-4-9-CAGR-Exclusive-Report-by-Acumen-Research-and-Consulting.html
10.  Statista, Gym, health & fitness club industry revenue in the United States,  2012-2022, US
https://www.statista.com/statistics/605223/us-fitness-health-club-market-size-2007-2021/
11. Google Trends 2023, Search requests "fitness", US
https://trends.google.com.ua/home?geo=US
12.  Statista, U.S. health and fitness app users, 2018-2022, US
https://www.statista.com/statistics/1154994/number-us-fitness-health-app-users/
13. Sensor Tower, Power User Curve tool, Global
https://sensortower.com/blog/state-of-health-and-fitness-apps-europe-2022
14. Instagram https://www.instagram.com/
15. TikTok  https://www.tiktok.com/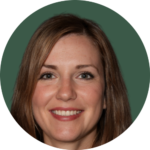 Lilly Jackson is the Fitness coach & Rehabilitator. She is helping women everywhere unlock their full potential in health and fitness! With a Masters's in Medicine and a passion for writing, her calling is to share knowledge with the world.